When I got my first community garden, the city had to run an ad to get people interested in gardening. That was 20 yrs ago, today we have a 3 year waiting list for available plots.
The first thing I did was research, which I love to do, on the best way to grow organic vegetables. The one book I kept going back to was 'Square Foot Gardening' by Mel Bartholomew, an engineer who redesigned the backyard garden in order to grow more vegetables in a smaller space. We all learned to garden from books and farmers who grew in large spaces on large farms, we don't need to use their methods in our little backyards.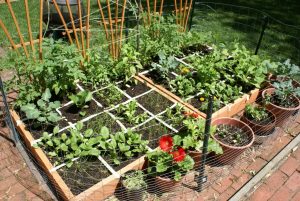 Mel's design was basic, a 4 x 4' raised bed with 6" sides (or taller) set upon landscape fabric to prevent weed or grass growth, other materials could also be used, then filled with equal portions of vermiculite, peat moss and compost and then divided into 16 one foot spaces. In each space Mel created a planting guide depending on the recommended space for each seed. Such as corn gets 1' space to itself and so do tomatoes because they are large plants, smaller veggies can be planted 4, 16 or 18 to a square. We can help you understand that, we'll be talking about Square Foot Gardening this Sat, May 14 at 10 a.m. at The Plant Stand in Costa Mesa.
You can also check out Mel's book and website,
http://www.melbartholomew.com/what-is-square-foot-gardening/
Or
http://squarefootgardening.org/square-foot-gardening-method

2972-A Century Place
(In the back)
Costa Mesa, Ca
(714) 966-0797