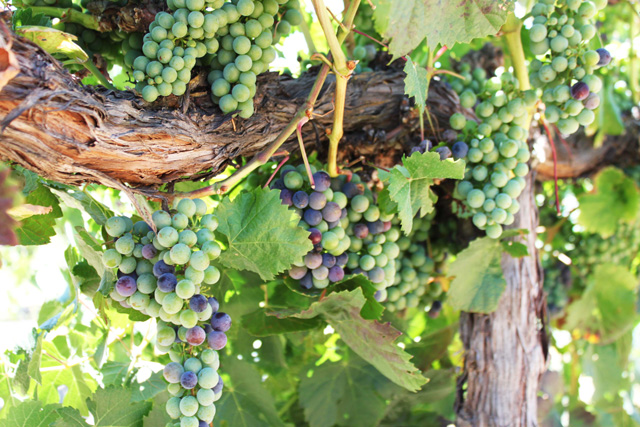 The drought and the warmest temperatures in California's recorded history have once again brought about an early wine grape harvest all over Ca. From Napa, Sonoma to Paso Robles, Los Olivos in between and even Temecula. Harvest seems to be about 2 weeks ahead of schedule and brix levels are promising another great vintage. Brix levels are measurements used on the grapes to determine the sugar content and helps vineyard management decide when to harvest in an effort the get the ideal balance of flavor and alcohol content in the wine.
The warm temperatures this winter caused an early bud break and great early growth of the vines. Veraison, "the onset of ripening", is the process where the grapes begin the transition from growth to ripening. Some areas in California actually began harvesting in July, in Paso and parts of Napa for example. After a warm winter and spring, in July and August they have experienced some morning marine influence with warm, windy afternoons that has slowed the grape maturity allowing the gradual development of sugars and acidity for harvest. Many white varietals have been picked and light reds such as Pinots have begun with Merlot and Cabernet to follow. Vintners are looking for another good vintage out of this years harvest. We all look forward to experiencing the 2014 Ca. harvest in the future.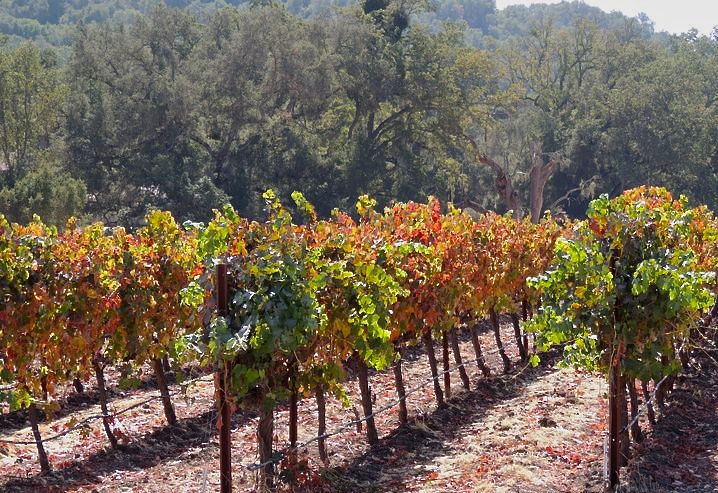 By the time we visit Rangeland Winery & Adelaida Ranch with our Fall Harvest Tour, most grapes will have been picked which is a good thing if it turns out to be true that California expects to experience a moderate El Nino, of course I that would be good for all of California. Expect a few grape clusters perhaps; fall leaves will prevail for our trip making for some excellent photographs. Rangeland is dotted with mighty oaks; laurel, live, blue and valley are growing all over the ranch. During our tour of the ranch Laird will share the history of the Adelaida Ranch, the Salinan Nation and Chumash natives as well as the miners and homesteaders. Lisa and Laird have an extensive collection of Native American tools and artifacts that have been found on the property as well. Late fall you might even glimpse the wild turkeys that can be found all over Paso Robles, hawks, deer, bobcats and even a pair of bald eagles may be spotted. Join us on our late fall tour, we have a few available accommodations left.
This has been our Fall Harvest Tour 'Windrose Farm Heirloom Tomato Tart' recipe for many of our farm lunches. Enjoy,
Windrose Farm Tomato Tart
1          cup fontina cheese, grated (or more-to your taste)
1/4      cup boursin cheese
1/4      cup mozzarella, shredded
1/4      cup Jarlsberg cheese, shredded
3          medium heirloom tomatoes, sliced
1          tablespoon Parmigiano-Reggiano
salt and pepper, to taste
Preheat the oven to 400°. Pre-bake the shell according to directions in Pate Brisee recipe. Let cool to room temperature or cool overnight.
Sprinkle with the cooled crust with cheeses.
Arrange the tomatoes in an overlapping circle and season with salt and pepper; sprinkle with Parmigianno-Reggiano.
Bake until the cheese is melted and tomatoes are slightly wilted, about 15 minutes.
Garnish with fresh herb sprigs. Serve room temperature or slightly warmed. Can be served along with a light salad tossed with vinaigrette dressing.
Serves 6
Adapted from 'What's In Your Pantry' by Debbi Dubbs