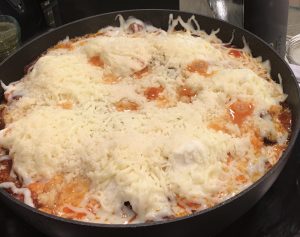 After making this for a demo in a skillet because I have no oven available, I will never make lasagna in the traditional manner. An easy weeknight recipe for dinner and leftovers it's ready in about 30 minutes with little prep. Feel free to doctor it up with herbs, spices, sausage, chopped peppers or whatever floats your boat. Be mindful of the addition of extra ingredients, you may need to adjust the amount of sauce that you use. I wouldn't add more than a half cup of other chopped vegetables without adding another half cup of sauce. The size of the pan also matters, if you use a larger than 9″ or 10″ pan you may need more ricotta to cover the top of the lasagna but you shouldn't need to adjust other ingredients. As I say in cooking class, try the recipe as written before you make any changes, then adapt it to your taste. Have fun in the kitchen!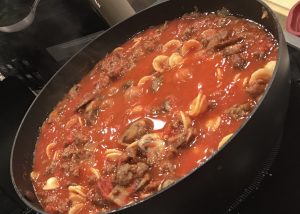 Skillet Lasagna
Great recipe to cook 'From Your Pantry' as you should have most of these ingredients as staples in your kitchen. Add a nice loaf of warmed Italian bread with olive oil on the side, a green salad and your set to go.
1 pound lean ground beef, turkey or chicken
1 teaspoon dried Italian seasoning, crushed
Sea salt and fresh ground pepper
½ medium brown onion, chopped
1 clove garlic, minced
8 ounces sliced mushroom
½ pound dry pasta, egg noodles, rotini, rotelle, farfalle or other shape
1 favorite jar pasta sauce
½ cup water
½ cup dry red wine
½ cup ricotta cheese
¼ cup Parmesan cheese
8 ounces shredded part-skim mozzarella cheese
Basil leaves for garnish, optional
In an approximately 9" sauté pan*, preferably non-stick, with lid, brown ground beef adding a little salt, pepper and Italian seasoning as it cooks. Drain and set aside.
Add a little olive oil, if needed, to lightly coat the bottom of the pan, add the onion and sauté until lightly translucent, add garlic and stir, cook briefly, then add mushrooms and continue to cook until mushrooms are lightly browned.
Add ground beef back to the pan and add the pasta, pasta sauce, water and wine, bring to a boil, reduce heat to a low boil, cover and cook about 10 minutes or until pasta is cooked. Taste and season with salt, pepper and Italian seasoning to taste.
Spoon ricotta into mounds on top of the lasagna mixture, sprinkle grated cheese over the top, cover, reduce heat to low and cook until the cheese is melted.
Add parmesan cheese and basil leaves, if using.
*If you're confused about sauté pan vs. skillet, a sauté pan has straight sides and some depth to the pan whereas a skillet has flared sides and won't hold the volume that this recipe calls for.