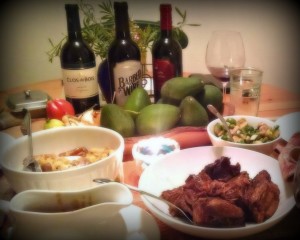 Easy Braised Short Ribs
Braising a tough cut of meat over a long period of time makes the meat deep, rich and delicious. With a small amount of preparation and a long cooking time these are easy to make and warms you up on those cold winter days. Make extra! You'll want them for leftovers, you can make a ragu out of them, a pot pie or even a Shepherds pie for quick weeknight dinners. You'll get more flavor out of the short ribs if they are on the bone, they will fall right off the bone after their long slow cooking so they'll be easy to remove.
Serves 4
Olive oil
1/3 cup flour (or more as needed)
2 teaspoons sea salt
1 teaspoon ground pepper
4 pounds short ribs on the bone
1 brown onion, chopped
1 medium carrot, roughly chopped
2 stalks celery, roughly chopped
1 tablespoon tomato paste (double concentrate from a tube-found in the 'Italian' section
2 tablespoons flour
¼ cup dry red wine
1 qt. beef stock, may use chicken stock
1 bouquet garni (1 bay leaf, 1 sprig thyme, 2 sprigs Italian parsley tied together in cheesecloth
Heat oven to 350°.
Mix flour, salt and pepper together in a shallow bowl or on a plate.
Heat a large Dutch oven over medium high heat; add enough oil to coat the bottom of the pan.
Dry short ribs well and dredge in the flour mixture, shake off the excess and place the meaty side into the hot oil. Do not crowd the meat in the pan or it will not brown properly. This is the most important step in braising so take your time. Remove the ribs, set aside and continue until all ribs are browned.
In the same pan, add more oil as necessary, add onions, carrots, celery to the pan and sauté until lightly browned.
Add tomato paste and stir to coat all the vegetables and cook the paste a little, about 2 minutes.
Add flour and stirring constantly cook for another 5 minutes without burning. The flour may turn a little dark but that's fine.
Add the dry red wine to the pan and scrape the bits that have stuck to the bottom of the pan. Let reduce and thicken slightly. Remove from the heat.
Return the ribs to the pan, cover with stock and add the bouquet garni. Put the lid on the Dutch oven and bake for 3 hours. Remove bouquet garni.
Juices may be thickened into gravy with a beurre maníe, roux or cornstarch slurry.
Beurre Manie, Roux, Cornstarch Slurry
Beurre Manie
Mix together equal parts softened butter and flour until it looks like thick butter and all the flour is incorporated.
Roux
Melt 2 Tb. butter in a pan, add 2 Tb. flour, whisk together and cook until lightly browned
Cornstarch Slurry
2 parts cold water mixed with 1 part cornstarch
Whisk any of these into your hot liquid, stirring until thickened. Don't over-cook the cornstarch slurry or it will start to break down and become thin again.