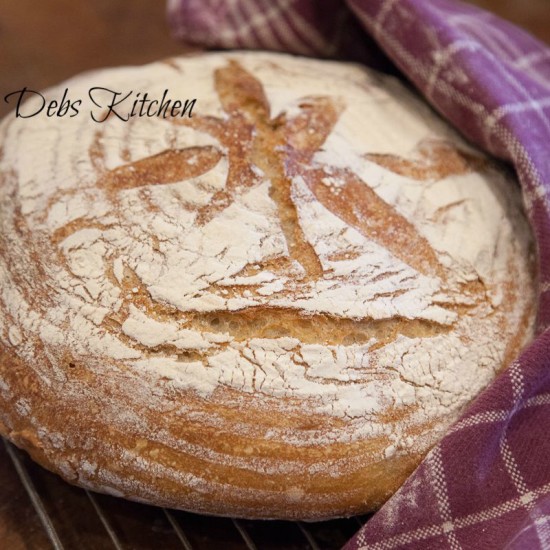 What's better than fresh hot bread straight from the oven? (Well besides some delicious fresh butter on it!) What's better is that this is a NO KNEAD recipe, couldn't be easier. The dough will keep in your refrigerator for up to 2 weeks after mixing and there is nothing to do except pinch off a big piece, let it come to room temperature and bake it. The dough makes wonderful pizza, focaccia and flatbread as well. The authors, Jeff Hertzberg and Zoe Francois, use Gold Medal Flour for their bread but I am a die hard King Arthur Flour fan. Read about flour and how to measure and then decide for yourself which to use. I use this dough for bread, flatbread, pizza and rolls, check the Artisan Bread in 5 Minutes a Day for other recipes. This is a book you must have on your shelf. Buy it now from Amazon, click here.

I like baking my bread in a Le Crueset Dutch oven and I give directions for that procedure, the Artisan Bread website will guide you in other methods. If you like using a starter for your bread, the authors also give you instructions on how to incorporate that method into your bread making.
If you learn to weigh your flour you'll have much better results in the end product. Actually weighing ingredients for recipes is really much easier and the recipe comes together much quicker and more efficient.
Watch the video made by King Arthur Flour on how to measure flour here, 
I'm posting my edited version of the bread but you can visit the authors website and read the original recipe with updates and tips. Go here for recipe