Class French dessert, great for brunch or breakfast with coffee.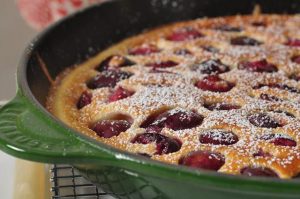 Cherry Clafoutis
Batter
1 cup milk
1/4 cup heavy cream
2 tablespoons sugar
3 eggs
1 tablespoon vanilla
½ teaspoon salt
2/3 cup all-purpose flour
Cherries
2 tablespoons butter, melted
2 tablespoons sugar
1 pound fresh cherries, stemmed, pitted and cut in half or rough chopped
Confectioners' sugar for dusting
Heat the oven to 400°F.
Beat together all the batter ingredients until smooth and frothy. Set aside to rest while preparing remaining ingredients.
Pour melted butter into a 9 or 10" shallow pan, quiche pan or cake pan and sprinkle with the 2 tablespoons of sugar spreading evenly. Sprinkle cherries over the sugar and cover with the batter.
Bake for about 30 minutes or until the clafoutis is puffed and brown on top. Dust with confectioners sugar and serve immediately.
Clafoutis will collapse quickly but will still be delicious.