How to Make  Mashed Potatoes!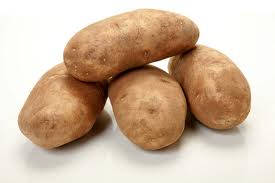 (Easy Peasy)
1 medium organic* russet potato person
1 tablespoon Kosher salt
1 -2 tablespoons butter, REAL BUTTER, unsalted
1/2 cup milk (cream if you want to be decadent, or mix the two)
Sea Salt and pepper
1 tablespoon sour cream, optional
1 teaspoon chives, optional
1 tablespoon grated cheese, optional
Wash potatoes and then cut into large chunks, place into a large saucepan and cover with cool water. Add a tablespoon of Kosher salt, bring to a boil and cook until fork tender, about 15 minutes. 
Heat the butter with the milk (I use the microwave). If you use the microwave wait to heat until the potatoes are cooked. Drain the potatoes and peel the skin off with tongs. For creamy soft mashed potatoes slip through a ricer into the still hot saucepan that you cooked them in (without any water!) If you don't have a ricer just put the chunks back into the pan, place on the stove over low heat for a minute or two. This helps to dry them a little further so they absorb the butter and milk more evenly.
Add enough butter and milk (or cream) to the potatoes and lightly mashed with a potato masher, they should come together easily. Don't overwork the potatoes or they can turn gummy. Season with sea salt and pepper to taste and add any optional ingredients, serve.
If you're making potatoes for a crowd they can be made about 1 hour ahead of time and kept warm on low in a preheated slow cooker! (I don't remember where I learned that trick but thank you to whoever it was that shared it)
*Organic potatoes, all kinds of pesticides and sprays are used on conventional potatoes to keep bugs from eating them while they grow. Then to harvest them and finally to keep them from sprouting in the store. Choose organic for your health.