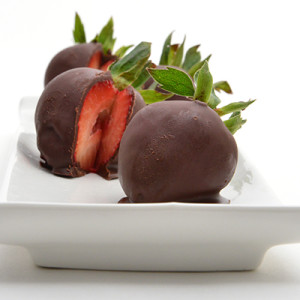 Most chocolate covered strawberries, if just dipped in melted chocolate, will crack when you bite into them. Here's a recipe for Ganache Covered Strawberries that can be refrigerated and eaten without the chocolate falling off the berry. Ganache is simple and easy to make and it stores well in the refrigerator for days. Use it to frost a cake, cupcakes, dip all kinds of fruit or make delicious truffles. Send me a comment if you'd like me to post a truffle recipe! Happy Valentines Day!
Chocolate Ganache Covered Strawberries
1          # large stemmed strawberries
12        oz. (by weight) dark chocolate
1          cup heavy cream
½         tablespoon butter, unsalted (makes the chocolate shiny)
Wash and dry strawberries carefully, set aside on a towel. Line a baking sheet with parchment paper.
Chop the chocolate into small chunks using a serrated knife. You could use dark chocolate chips instead if desired.
Heat the cream slowly in the top of a double boiler, add the chocolate pieces and stir until the chocolate is nearly melted, add the butter and remove from the heat, continue to stir until the chocolate and the butter have melted.
Dip the dry strawberries into the melted chocolate (Ganache) mixture and lay on parchment lined baking sheet to dry.
You could sprinkle the berries with finely chopped nuts if desired or drizzle with a little melted white chocolate. When the chocolate is dry place strawberries into paper cups and place in a chocolate box or on a platter to serve or give as a gift.
Here's a great gift from Melissa's Produce, Chocolate and Strawberries!