One Pot, Three Methods
Instant Pot, Slow Cooker, Dutch Oven
Happy St. Patricks Day whether you're Irish or not!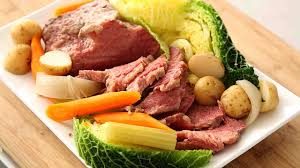 Corned Beef
2 pounds corned beef brisket (after trimming)*, flat cut with pickling spices
1 medium yellow onion, peeled and quartered
3 cups beef stock, chicken stock is fine as well
1 bottle Guinness beer
2 pounds red potatoes, quartered
4 medium carrots, chopped into 1 or 2" pieces
1 cabbage**, cut into 8 wedges
Trim excess fat from the corned beef brisket. Place corned beef into Instant Pot on the rack. Add onion, stock, and beer. Turn steam release handle on lid to sealing; select manual setting on high pressure for 70 minutes.
Preheat oven to 350°.
Allow to naturally release for 15 minutes then quick release any remaining steam until the float valve drops and you can remove the lid. Place the corned beef into an ovenproof casserole dish with a lid and place into the oven to keep warm.
Add the potatoes, carrots, and cabbage to the Instant Pot. Place lid on Instant Pot and close. Make sure the steam release handle is positioned to sealing and select manual on high pressure for 3 minutes. When finished cooking, quick release (using an oven mitt) the steam.
Transfer vegetables to a platter and slice the corned beef against the grain. Serve with a coarse grain Dijon mustard, warm fresh rye bread or rolls.
*Purchase a 3 – 3 ½ pound corned beef if there is a lot of fat that will be trimmed off. The recipe will work with a 3# corned beef as well.
** Instead of cabbage, I like to serve the corned beef with good sauerkraut such as Boars Head.
This recipe can be made using a slow cooker on high for 4-5 hours or low for about 8 hours, adding all the vegetables for the last 45 minutes.
It also can be made stove top in a heavy Dutch oven, bring to a boil then reduce heat to a simmer, cook covered for 2 ½ hours then add the potatoes and carrots and continue cooking for 30 minutes, adding the cabbage after 15 minutes and continue cooking until the vegetables are tender.
Photo: Martha Stewart