On these dog days of summer, even here at the beach, this is one of my favorite go-to recipes. It's quick and easy, you don't have to turn on any heat, even to cook the pasta, and you can use bits and pieces of left overs from your refrigerator pantry.
Some of my typical summer refrigerator pantry items are, cheese, olives, tomatoes (home grown, of course), cucumbers, peppers and the like. Most often there will be some lemon chicken left over as well. All are perfect additions to this salad. First the pasta, no need to boil a big pot of water, we'll use the microwave!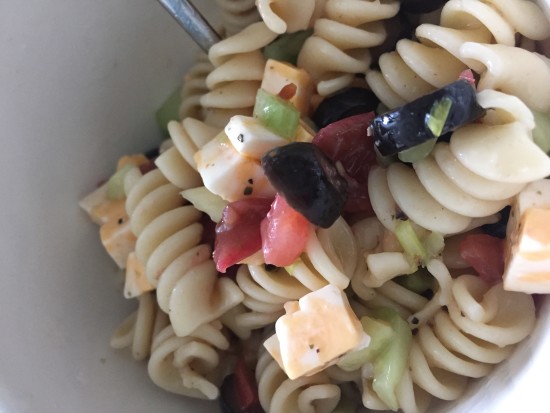 Pour your dry pasta, something curly is best to hold all the wonderful dressing in it's little nooks, into a microwave safe bowl. Cover with cool water by 1″, make sure the container is big enough that the water and pasta won't boil over. You'll want to cook your pasta for about 5 minutes longer than the directions guide you on the box. Test the pasta for doneness and cook a little longer if necessary. Drain well and rinse quickly with cool water. Do not add dressing to the warm pasta as it will just soak it all up and be mushy. Stir the pasta occasionally as it cools to keep it from sticking together. You could cook the pasta ahead of time and chill it before you  make the salad. If this is the case, toss the cooled pasta with a little olive oil before refrigerating. Now you're ready to proceed with the salad.
In actuality, from this point on you could chop and dice almost anything you find in you refrigerator but here's my stand by recipe.
Summer Pasta Salad
1/4 cup red wine vinegar
1 teaspoon Dijon mustard
1/2 cup olive oil, approximately
Salt and pepper
1 teaspoon garlic powder
2 teaspoon fresh basil, torn
1/2 cup diced cucumber
1 pint cherry tomatoes, halved or quartered
1/2 cup diced red bell pepper
1/3 cup thinly sliced green onions
1/4 cup sliced black olives
1/2 cup crumbled or diced cheese, mozzarella, chedderella, goat cheese or any you prefer
1 ½ cup cooked pasta
For dressing, mix together vinegar, Dijon, salt, pepper, and garlic powder and whisk until it comes together. While continually whisking slowly add olive oil to taste. Set aside.
Mix together remaining ingredients and toss with dressing. Serve cold.