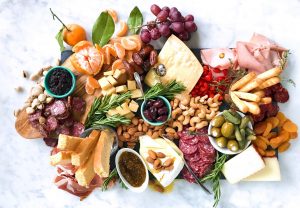 1 cup mixed olives
2 Tablespoons olive oil
1 teaspoon dried Italian herbs, ground
1 wedge triple cream brie
1 small jar of fig jam or fruit spread
8 ounces aged Gouda
8 ounces aged sharp cheddar, thinly sliced
1 baguette, sliced 1-inch thick
1 round of boursin, any flavor
2 packages of interesting looking crackers
1 wedge blue cheese, partially crumbled
1 small jar of honey
1 package mixed Italian meats
1 small bunch red seedless grapes
4 ounces nuts, mixed or single
1 package, 4 oz. of dried apricots
2 apples, cored and sliced tossed with lemon juice to prevent browning
Mix together olives, olive oil and ground Italian herbs, let rest for at least an hour or longer.
Don't crowd the cheese on the platter, make the board big enough to accommodate all ingredients.
Put the mixed olives in a small bowl and place on the platter.
Place the triple cream brie on the platter and arrange the fig or fruit spread next to the brie.
Place the sharp cheddar and gouda on the board next with the baguette slices nearby.
Then arrange the boursin near the baguette slices with the crackers next.
Add the blue cheese and honey on the board filling out the outer edges of the board. Tuck in the Italian meats all around the board, add the grapes in clumps and spread the nuts throughout the board with little pockets of dried fruit. Place the apples near the cheddar cheese.