We've Moved!
Join us in our new home at Chef Tech in Bixby Knolls, Long Beach with owner Chef Teri.
We now have a full kitchen with tables & chairs and lots of room. We look forward to seeing you there soon! See new address at the bottom of the class menu. You can sign up with Chef Debbi (call me, 562-243-3926) or click on the pay-pal button below. There is a small service charge for using pay-pal but you can always mail me a check. Classes are pre-paid reservations and cancellations are 100% refundable up to 3 days prior to class.

April Menu
Wed. April 10th
6:30 – 8:30PM
'A Little Book of Cheese' is here!
Book Signing & Demo Class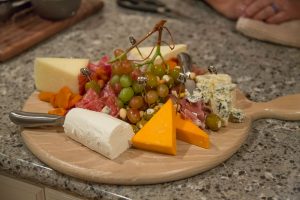 How to Prepare a Cheese & Charcuterie Board and Tasting
Smoked Gouda and Red Pepper Grilled Cheese Sandwich Bites
Fried Blue Cheese Stuffed Olives
Italian Stuffed Shells with Broccoli and Pine Nuts
Brie Puff Pastry Pockets

NEW LOCATION!
Chef Tech Cooking School
3842 Atlantic Avenue
Long Beach, CA 90807
See  April class date & menu by clicking on the month.
By Reservation Only, Sign up below
$55.00
(562) 243-3926
Or
Debskitchen.com
info@debskitchen.com
Enjoy larger portions, Tables & More
Sponsored by