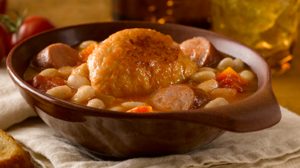 Chicken Stew Cassoulet
8 chicken thighs
Sea Salt and pepper to taste
2 tablespoons butter
2 tablespoons canola oil
1 small to medium onion, finely chopped
4 carrots, cut in half and then sliced into half-moons about ¼" thick
3 celery, sliced 1/4" thick
3-4 cups chicken broth
2 bay leaves
1 tablespoon dried thyme, crushed
1 lg. can whole tomatoes
2 cups white beans
1 cup bread crumbs, large pieces not fine
Rinse and pat dry the chicken. Trim any excess skin and fat.
Preheat oven to 375°.
Heat a large Dutch oven, add the butter and oil. Season the chicken with sea salt and pepper, place the chicken pieces skin side down in the pan and brown well on both sides. Don't crowd the chicken in the pan, do this in 2 steps if needed.
Set aside and pour off most of the drippings leaving about 2 Tablespoons in the pan. Sauté the onions, carrots and celery, return the chicken to the
pan and add chicken broth, bay leaves, thyme, tomatoes, white beans and a little salt
and pepper. Cover and place into oven and cook 30 minutes.
Check to make sure that chicken is nearly cooked.
Add bread crumbs and return to the oven, uncovered. Cook until crumbs are
lightly browned, about 15 minutes.