This is but a small list of fall pantry items that I like to keep for fall. With these on hand you can make breakfast, lunch, dinner and dessert without stress. There are even some items to have on hand for those friends who like to drop in for a visit. Throw the artichoke hearts in a food processor, add some spices and a little yogurt, cream cheese or mayo and bake for 20 minutes. Or drain and throw the roasted red peppers into a food processor, add a little leftover bread, walnuts, tomato paste with a little olive oil, salt and Aleppo pepper for a tasty dip for bread or crackers. Add things that your family likes to eat in the fall, for all the upcoming holidays and special events. Here's a great fresh, homemade applesauce recipes, serve along side pork chops or bake into an applesauce cake for a warm, spiced dessert or breakfast snack. Happy Fall!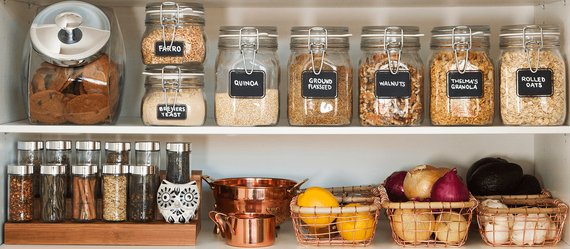 Beverages
Cocoa
Tea
Mulled Cider
 Fruit
Apples (do not store with other fruit or vegetables-apples give off ethylene gas which will hasten the ripening of other fruits and vegetables)
Applesauce
Dried fruit
Pears
Pomegranates
Citrus
 Vegetables
Potatoes
Carrots
Onions
Canned
Dried fruit (cranberries, apricots, blueberries etc.)
Canned pumpkin
Canned and dried beans (for soups, stews, chili)
Canned Tomatoes
Tomato sauce
Tomato Paste
Garlic
Onions
Pickles
Roasted Red Peppers, in water
Grains
Oatmeal (rolled oats & steel cut)
Alternative grains
Breadcrumbs
Rice
Soup
 Pasta
Mac & Cheese Pasta
Lasagna noodles
Flour
 Dairy
yogurt
cheese
Condensed milk
Unsalted butter
Variety of cheeses
 Staples
Artichoke Hearts, canned in water
Breadcrumbs
Chicken, Vegetable, Beef Stock
Crackers
Honey
Maple Syrup
Molasses
Sugar, white, brown, dk. Brown
White vinegar (for pickling)
Apple Cider Vinegar
Balsamic Vinegar
Spices
Aleppo Pepper
Sea salt
Baking Spices
Cinnamon sticks
Nuts
Pickling spice
Peppercorns
Yeast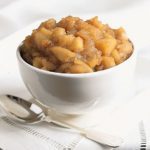 Simple Homemade Applesauce
3 pounds organic apples, Fuji, Gala, Honeycrisp or Jonagold
2/3 cup apple juice, orange juice or water
8 tablespoons sugar, optional
3 teaspoons cinnamon
1/4 teaspoon nutmeg
Core, peel and cut the apples into medium sized pieces. Place all ingredients into a saucepan with lid and simmer over low heat until apples are very tender, about 45 minutes. Put through a food mill to create a soft creamy applesauce or use a potato masher and serve chunky.
Pressure cooker or Instant-pot:
Combine all the ingredients in the container, cover and lock into place. Press manual button and set timer for 4 min. Let the closed pressure cooker rest for about 10 minutes, release any pressure that's left.
Carefully open lid, angling it away from you to avoid getting burned by the steam. Use a potato masher to crush with a slightly chunky consistency or put through a food mill for a smoother one.