Summer is almost here! Not that you would know that by the weather we're having. The rain is nice and it makes the garden grow but my other half is craving those warm summer days. Even though here in Southern California we grill all year long, Memorial Day is the official start of grilling season. Whether you grill on gas, charcoal or wood these recipes are easy do ahead recipes for cooking outdoors and picnics. So clean up that grill and set the table because dinner is served! Check out this simple cheese platter, get A Little Book of Cheese to learn all about cheese and how to make a platter!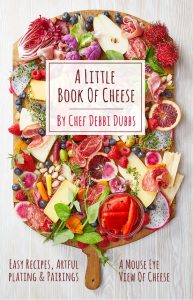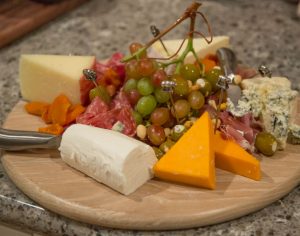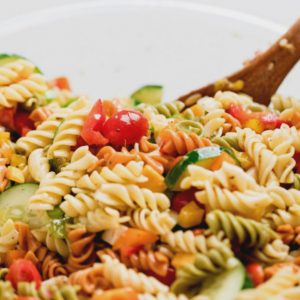 Summer Pasta Salad
Make this light summer pasta salad recipe a day ahead of time so that it can soak up all the bright, tangy dressing.
1/4 cup red wine vinegar
1 teaspoon Dijon mustard
1/2 cup olive oil, approximately
Salt and pepper
1 teaspoon garlic powder
2 teaspoon fresh basil, torn
1/2 cup diced cucumber
1 pint cherry tomatoes, halved or quartered
1/2 cup diced red bell pepper
1/3 cup thinly sliced green onions
1/4 cup sliced black olives
1/2 cup crumbled or diced cheese, mozzarella, chedderella, goat cheese or any you prefer
1 ½ cup cooked pasta, cooked and chilled*
For dressing, mix together vinegar, Dijon, salt, pepper, and garlic powder and whisk until it comes together. While continually whisking slowly add olive oil to taste. Set aside.
Mix together remaining ingredients and toss with dressing. Serve cold.
*Boil the pasta according to package directions, drain and rinse with cold water. When pasta has cooled down a bit, shake off excess water (dry with a towel, if necessary) and toss lightly with olive oil to keep from it sticking together. Refrigerate until ready to toss with dressing. Be sure to cool your pasta before adding the dressing otherwise the pasta will soak it all up.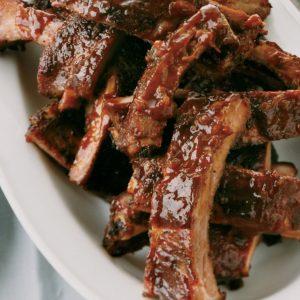 BBQ Baby Back Ribs
This is quick and easy do ahead baby back ribs. By using your Instant Pot or pressure cooker your ribs will come out nice and tender. Finish off on the grill with your favorite BBQ sauce.
1 slab Baby Back Pork Ribs
Sea salt and pepper
1 small yellow onion, roughly chopped
1 celery stalk, large diced, roughly chopped
1 carrot, roughly chopped
1 cup beer (or water)
1 cup BBQ sauce or more
Cut the racks of ribs in to sections that will fit in the pressure cooker and rub with salt and pepper.
Place onion, celery, carrot and beer in the pressure cooking pot. If you're going to make sauce from the juices in the pressure cooker you can place the ribs directly in the liquid or put the ribs on the rack if you're going to finish the ribs on the grill or under the broiler with another sauce.
Close and lock the lid of the pressure cooker. Select High Pressure and set the timer for 12 minutes. Press start.
When beep sounds, turn off pressure cooker and use a natural pressure release for 10 minutes and then do a quick pressure release to release any remaining pressure. When valve drops carefully remove lid.
Remove the ribs and cool to room temperature. Once cool, refrigerate until ready to serve.
To finish the ribs:
Preheat the BBQ grill to a medium high heat. Coat one side of the ribs with BBQ sauce and grill 3 minutes. Coat the other side with BBQ sauce flip and grill an additional 3 minutes. Slather on additional BBQ sauce and grill each side for an additional 3 minutes.
You could do the same as above by broiling them until just how you like them.
Serve immediately.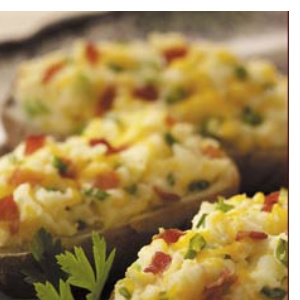 Stuffed Baked Potatoes
The perfect BBQ side dish as they can be made in advance, wrapped in foil and heated on the grill before serving.
2 medium to large russet potatoes, rinsed, dried
1/4 cup sour cream
1/4 cup cheddar cheese, grated
1/4 cup butter, (1/2 stick) room temperature
2 green onions or chives, chopped
Sea salt and pepper, to taste
4 tablespoons cooked bacon, crumbled, optional
Preheat oven to 450°. Pierce potatoes with fork. Lightly oil potatoes and
place on oven rack. Bake until cooked through, about 1 hour. If potatoes
starts to crisp and brown up, turn the oven down to 400. Transfer to baking
sheet; cool 5 minutes. Cut potato in half lengthwise. Carefully scoop meat
from the shell and mix with remaining ingredients, mashing lightly as you go. Season and taste before scooping mixture into potato shell.
Can be prepared 1 day ahead, covered and refrigerated. Bring to room temperature before the final cooking stage.
Preheat oven to 400°. Bake potatoes on baking sheet until heated through
and beginning to brown, about 25 minutes. For the grill, wrap each ½ in heavy duty foil, heat on the indirect side of the grill for about 20 minutes or until hot. Garnish with finely minced green onions, chives or crumbled bacon.