About Olive Oil
The following information is from my friend, Mary Platis, California Greek Girl. Check out her excellent book Cooking Techniques and Recipes with Olive Oil. You can purchase a copy below.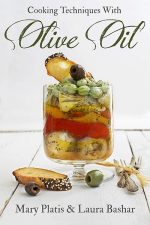 Not All Olive Oils Are Created Equal
It couldn't be a better time than this to reconsider the brand of extra-virgin olive oil you use in your kitchen. UC Davis just released a new study [PDF], conducted in April of 2010, showing the results of several different brands of extra-virgin olive oils and how they ranked according to their panel's chemistry and taste standards.
In a nutshell this is what they found:
Many extra-virgin olive oils contained cheaper canola oils, seeds, and nuts.
They were exposed to elevated temperatures, light, and aging which produced oxidation.
Poor quality extra-virgin olive oil was made from damaged, overripe olives.
So, Let's Go Shopping!
How to Keep your Olive Oils Safe
Buy small bottles of your favorite extra-virgin olive oil.
Store your bottle in a cool, dark location in an airtight container.
Do not cook with your extra-virgin olive oil over 400 degrees.
Use up your extra-virgin olive oil within 12 weeks.
Occasionally smell your extra-virgin olive oil for rancidity.
If you'd like to read more you can visit Mary here, California Greek Girl 
Visit our friends Karen & Jennifer at Groves on 41 for fresh, delicious olive oil delivered right to your door!
Let's Get Cooking with olive oil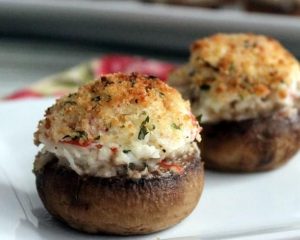 Crab Stuffed Mushrooms
16 large white mushrooms, brushed with stems and gills removed*
Olive oil
8 oz. cooked crab or lobster meat
1/2 cup Panko breadcrumbs, divided
1/3 cup freshly grated parmesan cheese
1/3 cup mayonnaise
4 oz. whipped cream cheese, softened
2 green onions, chopped
¼ cup minced celery
1 tablespoon finely chopped Italian parsley
¼ teaspoon dried oregano
Sea salt and fresh ground pepper
½ teaspoon garlic powder
½ tablespoon lemon olive oil
Preheat the oven to 400°. Place a piece of parchment paper on a baking sheet and set aside.
Brush the outside of the mushrooms with a little olive oil and arrange on baking sheet.
In a large bowl combine crab meat, 1/3 cup Panko crumbs, parmesan, mayonnaise, cream cheese, green onions, celery, herbs, salt and pepper.
Stuff each mushroom cap generously with the crab mixture.Combine oil and remaining Panko crumbs until evenly coated. Sprinkle the panko mixture over the tops of the mushrooms.
Bake until the mushrooms begin to brown, approximately 15 minutes then broil for a 2 minutes until golden all over with crispy tops.
Serve immediately.
Choose mushrooms about the size of a half dollar.
Avocado and Asparagus Salad
1 lb. asparagus
1 tablespoon olive oil
Sea salt
5 oz. mixed salad greens
1 cup cherry tomatoes, cut in half
1 large Hass avocado
Orange Vinaigrette
¼ cup White Balsamic Vinegar, champagne or white wine vinegar will work also
1 teaspoon Dijon mustard
1 teaspoon minced shallot
½ cup Blood Orange Olive Oil
Sea salt and fresh ground pepper
Preheat broiler, cut the ends off of the asparagus, drizzle with the 1 Tb. olive oil and sprinkle with sea salt. Roast until lightly browned. Set aside to cool*.
Mix salad greens together with cherry tomatoes. Cut the avocado in half and remove the seed, scoop out the meat and dice then place into a small bowl.
Whisk together the vinegar, Dijon mustard and shallot, while continuing to whisk drizzle the olive oil in (tasting as you go). When you have a blend that tastes good to you, season with salt and pepper.
Toss the greens and tomatoes with a little of the dressing and place on a plate. Top with the avocado pieces and asparagus and top with a drizzle of the dressing.**
*If desired cook asparagus ahead of time, cool and refrigerate. Serve cold.
** If you have leftover dressing, place in a jar and keep in the refrigerator for up to a month.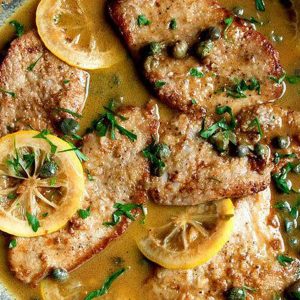 Pork Scallopini with Leek & Caper Vinaigrette
1/3 cup all-purpose flour
4-6 pork cutlets, pounded thin
Sea salt and ground pepper
½ teaspoon garlic powder
Olive Oil
2 large leeks, trimmed, washed and thinly sliced
1 cup chicken stock or broth
2 tablespoons capers, rinsed
1 teaspoon freshly grated lemon zest
1 tablespoon lemon juice
3 tablespoons chopped flat-leaf parsley
Place the flour on a paper plate; season the cutlets on both sides with salt, pepper and garlic powder and dredge in the flour, shaking off excess.
Heat a large nonstick skillet over medium heat; coat the bottom of the pan with olive oil, adding more oil for the second batch if needed.
In two batches, sauté the cutlets until golden brown and just cooked through, 1 to 3 minutes per side. Transfer to a platter; tent with foil to keep warm.
To the same pan again coat the bottom of the pan with olive oil and sauté the leeks until soft and translucent.
Add the stock, bring to a boil and scrape any bits (fond) off the bottom of the pan. Simmer and reduce slightly (cook for about 3 or 4 minutes). Stir in the capers, lemon zest, lemons juice and parsley. Return the pork to the pan along with any juices that have accumulated, turn to coat with the sauce and until the pork has heated, 1 – 2 minutes.
Place the pork on a platter or individual plates, sauce with the leek mixture.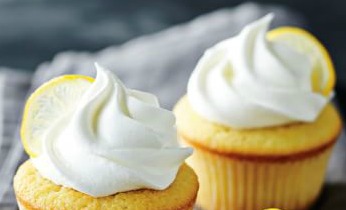 Meyer Lemon Cupcakes
1 1/2   cups all purpose flour
1 1/2   teaspoons baking powder
1/2      teaspoon salt
3/4      cup granulated sugar
2          teaspoons zest from Meyer lemon
1          cup plain Greek yogurt
4          eggs
2          tablespoons juice from Meyer lemon
1          teaspoon vanilla extract
1/2      cup citrus olive oil
Center a rack in the oven and preheat the oven to 350°.Line muffin tin with cupcake papers. Whisk together the flour, baking powder and salt.Put the sugar and zest in a medium bowl and, with your fingertips, rub the zest into the sugar until the sugar is moist and aromatic.Add the yogurt, eggs, lemon juice and vanilla and whisking vigorously until the mixture is very well blended. Still whisking, add the dry ingredients, then switch to a large rubber spatula and fold in the oil. Ladle the batter into the cupcake papers and bake 20-25 minutes or until a knife or toothpick inserted comes out clean. Top with whipped cream.