A fresh and light French Salad for spring and summer.
Look for a trick to cook perfect poached eggs!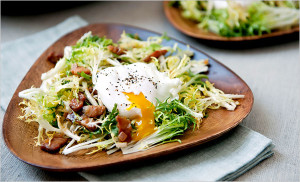 Salad Lyonnaise
4 cups friseé lettuce (about 4 ounces), torn into large bite-size pieces
2 pieces regular sliced bacon, sliced into strips
1 tablespoon white vinegar
2 large eggs
1 medium shallot, finely minced
¼ cup red wine vinegar
½ teaspoon Dijon mustard
½ cup grapeseed oil, or less to taste
Sea Salt and pepper, to taste
Place the friseé into a large mixing bowl.
Cook the bacon over medium heat until crisp, place on paper towels to drain.
Keep the pan and it's rendered fat.
To poach the eggs, fill a saucepan with 4 inches of water and add the white vinegar. Bring the mixture to a gentle simmer. Break each egg into small bowl, With the egg still in the strainer, carefully lower it into the hot water so that the egg is completely submerged. Gently shake and swirl the strainer and use a slotted spoon to shape the egg. When the edges of the egg white start to turn opaque (30 to 60 seconds), use the slotted spoon to carefully release it from the strainer into the water.
Cook the egg, flipping it occasionally with the spoon, until the white is opaque, and firm and the yolk is plump and jiggles slightly to the touch, 3 to 3 1/2 minutes. As the first egg is cooking, repeat steps to cook additional eggs, but keep an eye on which egg went in first. Use a timer to avoid overcooking.
When the egg is done, use the slotted spoon to carefully remove it from the hot water. To serve immediately, place a paper towel under the spoon and shake gently to remove some of the excess water.
Reheat the skillet with the rendered bacon fat over medium heat. Add the shallots and cook, stirring, for 30 seconds. Drain on paper towels briefly and set aside. In a medium bowl add the red wine vinegar and mustard and whisk to combine. Add the bacon pieces and shallots, slowly whisk in the oil and season with sea salt and pepper. Toss the friseé with the dressing and divide the salad on two plates topping with one egg, Don't forget to season with sea salt and pepper to the top of the egg as well.