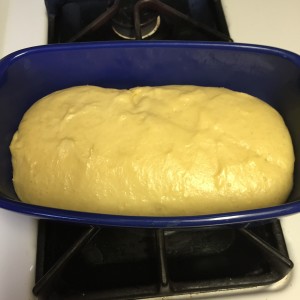 Homemade brioche is really pretty easy with most of the work being done by the dough. Plan ahead as it needs an overnight rise in the refrigerator. This recipe is from King Arthur Flour and they say (correctly I might add) that this recipe should be done only in a stand mixer. The dough is quite wet and sticky and it took 20 minutes to come together using my stand mixer. That was the hard part, well not really, the hard part was waiting overnight before I could bake it but the resulting French Toast was well worth the wait.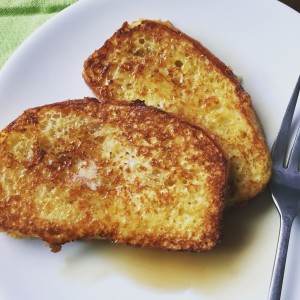 After the overnight rise, I cut the dough in half and made 1 small loaf and 3 good sized buns (for burgers). Then you have to play the waiting game again for a few hours before you can bake them. The long overnight rise and the room temperature rise before baking results in a beautiful crumb and delicate taste. The aroma while baking, of course, will drive you wild. The bread turns a rich golden color (don't be afraid to cover them while baking if they start to brown too quickly) and is a very soft, light bread when it's finally ready for you to eat.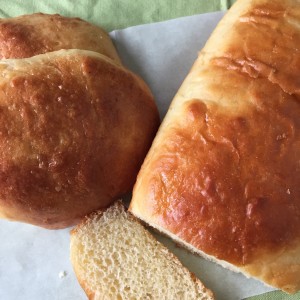 I'm going to freeze the buns for a future use and perhaps part of the bread for toast and French toast in the near future. I did make a test batch of French Toast with a little butter and real maple syrup and woofed it down. It would have been delightful with some summer fruit but the last of the farmers market fruit was eaten yesterday in a peach-blackberry cobbler.
This is great recipe to try over the weekend. Mangia!
Brioche
From King Arthur Flour:
The inspiration for this recipe comes from our bakery, where brioche buns are among the wide variety of rolls and buns King Arthur Flour bakers produce daily. These particular buns are rich, tender, and pillow-like, similar to our bakery's, and are the perfect vessel for a big, juicy burger.
2 3/4 cups King Arthur Unbleached All-Purpose Flour
¼ cup Baker's Special Dry Milk or nonfat dry milk
2 tablespoons sugar
1 1/4 teaspoons salt
1 tablespoon instant yeast
3 large eggs + 1 large egg yolk, white reserved for wash (below)
1/4 cup lukewarm water
10 tablespoons unsalted butter
Egg Wash
1 large egg white, lightly beaten with 1 tablespoon cold water
seeds of your choice, optional
Mix and knead the dough ingredients — in a mixer or bread machine — to make a smooth, shiny dough. It starts out sticky, and takes 15 to 20 minutes of kneading in a stand mixer to develop, so we don't recommend kneading this by hand.
Form the dough into a ball, place it in a greased bowl, cover, and let it rise for 1 hour.
Refrigerate the covered dough overnight, to slow its rise and make it easier to shape.
The next day, remove the dough from the refrigerator, and divide it into six pieces.
Shape each piece into a flattened ball, and place into the lightly greased cups of an individual pie and burger bun pan. Or place the buns on a lightly greased or parchment-lined baking sheet, leaving about 2" to 3" between them.
Cover the buns, and let them rise until they're quite puffy. This may take as little as 1 hour; or up to 2 to 3 hours, depending on how warm your rising environment, and how cold the dough. Towards the end of the rising time, preheat the oven to 375°F.
Brush the buns with egg wash, and bake on the middle rack of the oven for 14 to 18 minutes, tenting with foil after 10 minutes if they appear to be browning too quickly. The finished buns will register at least 190°F on a digital thermometer inserted into the center.
Remove the buns from the oven, and cool on a rack.
Yield: 6 buns or 2 small loaves
King Arthur Flour