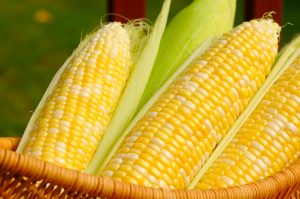 There is nothing like summers sweet corn on the cob. The tables at the farmers market this weekend were loaded with all kinds of corn and great prices make you want to stock up but corns sweetness will turn to starch the longer it's stored. There's an old saying that you should start the water boiling for the corn before you pick it. But if you don't have a corn field in your back yard here are a couple of tips to help maintain that sweetness.
One, don't peel and husk your corn, leave it in its little corn jacket and store in the refrigerator. This won't maintain it's sweetness long but it will stay sweet for about a day.
Two, peel and husk your corn, freeze separately and when frozen wrap in plastic and pop into a freezer bag. Use within a few weeks for best results.
Three, (this is my favorite), peel a few leaves off the outer ear but leave the husk and some leaves still attached. Chop off the very top and the bottom. Here's another tip for you-usually corn worms are only found in the top of the ear, just lop that part off, the corn is still good to eat and it means that the farmer didn't dust the corn with insecticide (a good thing). Put the corn into the microwave and cook for 5 minutes, remove carefully it will be hot. Place in a colander in the sink and run some cool water over it. After it cools, refrigerate and it will hold it's sweetness for a day or two.
Here's one of my favorite hot weather dinner salads using sweet corn right off the cob!
Shrimp and Avocado Salad
Dressing
¼ cup Pomegranate vinegar or good red wine vinegar
1 teaspoon finely diced shallots
1 teaspoon Dijon mustard
Dash of dried parsley flakes, crushed
½ cup olive oil, approximately
Salad
1 head Bibb lettuce, peel the leaves from the core, rinse with cool water and dry well
1 ear fresh sweet corn, prepare the corn as directed in the notes.
1 small Persian cucumber, cut in half lengthwise and then into half moons
1 medium tomato, chopped into bite-sized pieces
8 large shrimp, (U16), cut into bite-sized pieces
1 Haas avocado cut in half; pit removed and scoop out the whole half
2 rashers (slices) bacon, cooked and crumbled
¼ cup crumbled blue cheese, optional
Dressing
In a jar or small bowl add vinegar, shallots, Dijon mustard and parsley flakes, add a sprinkle of salt and pepper. Slowly whisk in the olive oil to emulsify. As soon as the dressing starts to thicken stop and taste the dressing, if it needs more continue to add the olive oil while whisking. Any extra dressing may be stored in the refrigerator for up to 3 weeks.
Tear the lettuce leaves into large pieces and add to a large bowl and toss with a little of the dressing. Add the corn, cucumber, tomato and shrimp and toss again with a little dressing. Lightly mix in the avocado and place into shallow bowls or large plates, sprinkle with bacon and cheese and serve extra dressing on the side.
Makes 2 entrée salads
Notes:
Pick up fresh corn from the farmers market, not the supermarket. The sugar in corn starts to turn to starch when it's picked so by the time it gets to the supermarket much of the sweetness will be gone. When you get the corn home here's an easy trick to help keep the sweetness in for a day or two. Remove some of the outer leaves but not all. Cut the top and bottom off the ear and microwave for 5 minutes. It will be hot when you bring it out of the microwave so run some cool water over it and set it aside to cool completely. This method is similar to blanching and shocking your vegetables. Use right away (peel the remaining leaves and silk then slice off the cob) or store in the refrigerator for a day or two.
In the hot weather buy the shrimp already cooked for an easy meal at the end of the day. If you purchase raw shrimp to cook it simply bring a large pot of water to a boil, add a tablespoon of Old Bay Seasoning and cook at a slow boil (bubbles just break the surface) until the shrimp is done, about 5 minutes. To test the shrimp simply take one out, run cool water over it, peel, devein and eat it!
Pomegranate vinegar can be ordered from Temecula Olive Oil Co.