Galettes, Crostata and Tarts are similar in nature, they all can be sweet or savory and they all have a tasty butter crust. Really the only difference is Galettes (French) and Crostata's (Italian) are free form on a baking sheet lined with a piece of parchment. A tart is always cooked inside a ring or a tart pan so the sides are nice and neat and usually scalloped. There, that's it!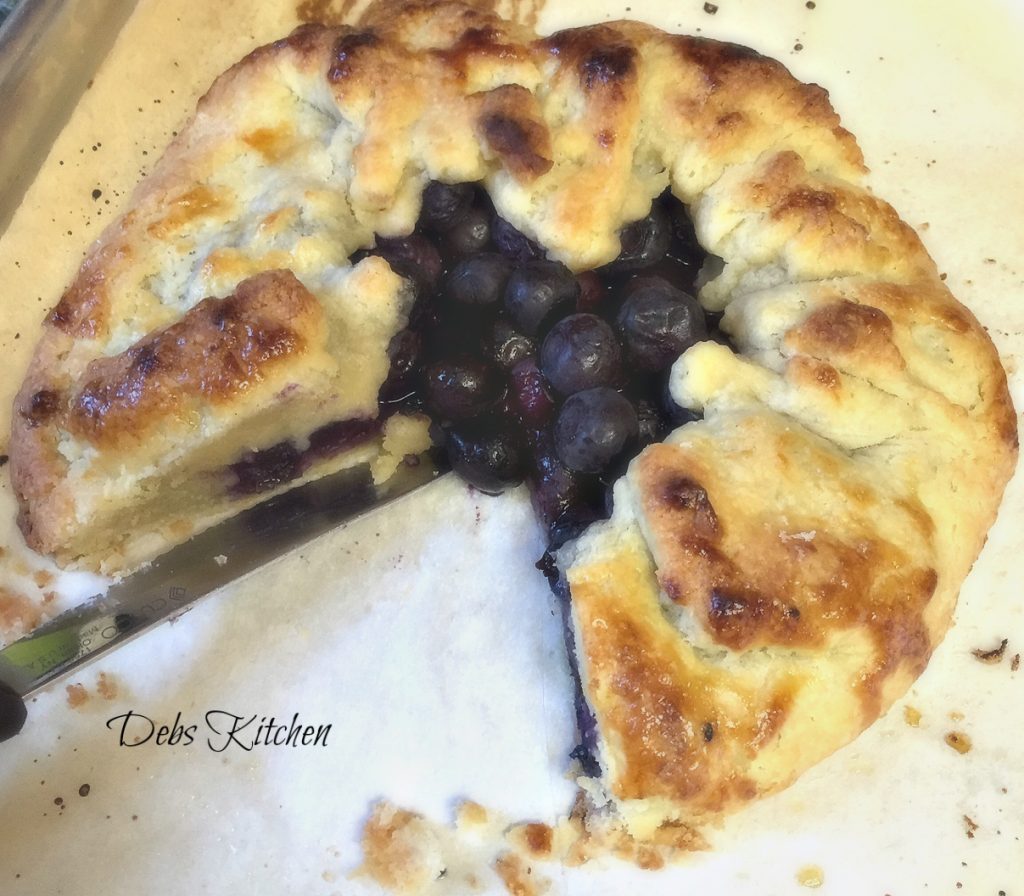 Whatever you call them this is the best time of year to make them with all the wonderful fresh fruit at the farmers market. You can use any kind of fruit which makes this recipe so versatile and the crust is easy to make. Make some dough ahead of time, wrap it well in plastic wrap and store in the freezer for up to 2 months, defrost overnight in the refrigerator. Please don't buy frozen pie dough from the market, you'll be disappointed in the finished product. Most of them have no butter in them which is what makes this crust so flaky and tasty. It's easy to do in a food processor, try it this weekend.
Rustic Fruit Galette
Notes:
Flour can absorb water from the air so on hot dry days the flour may take more water to come together than on a humid day. Always fluff your flour by swiping a knife through it to lighten it, flour compacts as it sits. Unless you weigh your flour this is the best method to ensure you get an even product every time you bake.
The dough can be refrigerated up to 2 days or frozen up to 2 months.
1 cup sugar, divided
2 cups all-purpose flour
¼ teaspoon. salt
2 sticks cold butter, cut into small pieces
4 tbsp. ice water
1-1½ cups berries or any fruit mixture
1 large egg yolk, lightly beaten with 1 tbsp. milk or cream
Place ½ cup of the sugar, all the flour and salt into the bowl of a food processor, pulse to mix briefly, add the butter and pulse until butter is the size of peas. Pour the mixture into a bowl and begin to add the ice water one tablespoon at a time until the dough comes together in a ball. Divide into two and form a disc, wrap tightly in plastic wrap or parchment and chill for 1 hour.
Cut any pieces of large fruit into pieces and mix together in a bowl with ½ the remaining sugar (1/4 cup). Refrigerate until ready to bake tarts.
Preheat the oven to 450°.
Line a baking sheet with parchment paper and set aside. Take the dough out of the refrigerator one disc at a time. Roll into a round ¼" thick on a rol mat or floured surface and place on the parchment, repeat with the other disc. Use as little flour as possible to roll out the dough.
Split the berry mixture into the center of each round leaving a 1 ½" border around the edge. Fold up the edges pleating or folding to cover most of the fruit. Brush the dough with the egg wash and sprinkle the remaining sugar over the dough.
Bake for 12 minutes or until the crust is lightly browned, cool and serve with ice cream or whipped cream.