Here's a great 'From The Pantry' appetizer, serve up with any dip or all alone!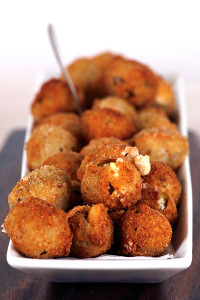 Fried Blue Cheese Stuffed Olives
Great out of the pantry appetizer….
1/2 cup all-purpose flour
2 large eggs, beaten
3/4 cup dried bread crumbs
40 Blue Cheese Stuffed Olives
Vegetable oil, for deep frying
Lemon wedges, for serving
Fill three bowls, from left to right, with the flour, eggs, and bread crumbs. Stuff the olives with your choice of fillings.
Spear and olive with a toothpick (optional- you can use your hands if you like) and coat it in the flour evenly, shaking off the excess, into the egg, and then roll it in the bread crumbs. Use a fork to pop it off the toothpick onto a plate. Repeat until all of the olives are crumbed.
Heat 1 1/2 inches of oil in a medium saucepan until it reaches 350°F on a deep-fat thermometer or a candy thermometer. Place a few of the olives at a time in the bowl of a slotted metal spoon and lower them into the oil. Fry in batches until golden brown, less than 1 minute. Fish out the olives with a spoon and transfer them to paper towels. Spritz them with lemon while sizzling, if you like. Serve hot.