PASTA!
Here are 2 great pasta salad recipes for your summer~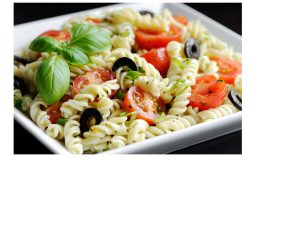 Italian Pasta Salad
1 box tricolor rotini
8 ounces salami chopped
1 cup mozzarella cheese cubed
1 pint grape tomatoes halved
½ cup sliced black olives
1 red bell pepper diced
⅓ cup parmesan cheese grated
½ teaspoon fresh ground Italian seasonings
1 cup Italian vinaigrette dressing, or more as needed
salt & pepper to taste
Cook pasta in salted water according to package directions, drain let cool slightly then toss with a little oil to keep the pasta from sticking together.
Combine all ingredients in a large bowl. Toss to combine.
Refrigerate at least 2 hours before serving.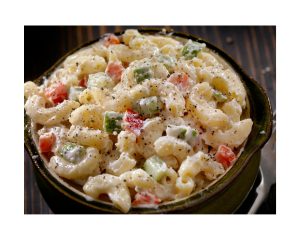 Old Fashioned Macaroni Salad
2 cups dry elbow macaroni
1/2 cup diced celery, approximately 2 stalks
½ cup diced red bell pepper, 1 small
2 Tb. minced onion
1 cup mayonnaise
½ teaspoon dry mustard
1 teaspoons sugar
1 Tb. cider vinegar
Salt and pepper, to taste
Cook macaroni according to directions on the box in salted water, drain and cool. Toss with a little sunflower oil to keep the pasta from sticking together, chill.
Chop all vegetables and place in a large bowl with the chilled macaroni, mix well.
In a medium bowl, whisk together the mayonnaise, mustard, sugar, vinegar, and season, to taste with salt and pepper. Pour the dressing over the salad and stir to combine. Chill for several hours or overnight. Store covered in the refrigerator, for up to 5 days.
Serves 6