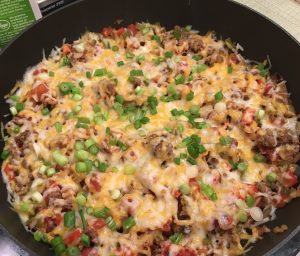 I use this mix for tostada's and scoop it over some great refried beans or top with tamale topping and bake or even spread on nachos or in tacos and burritos. Feel free to use other ingredients as well, look to see 'What's In Your Pantry'
Mexican Skillet Fry
1 lb. ground beef or turkey
1 small onion, diced
2 bell peppers, diced, I used 1 red & 1 green
1 8oz can diced tomatoes with green chile
1 cup long grain white rice
2 cups chicken or beef stock
2 teaspoons taco seasoning
Sea salt
1 cup shredded Mexican cheese or a mixture of jack & cheddar cheese*
3 green onions, sliced to garnish
Optional
Tamale Topping:
1 ½ cups milk
1 teaspoon salt
2 tablespoons butter
1/2 cup yellow cornmeal
1 cup shredded Cheddar cheese
2 eggs, lightly beaten
In a large pan skillet with a lid, brown ground beef (sauté the meat until you can break it up but don't cook all the way through before adding next ingredients. Do not drain, if using ground turkey, you may have to add a little vegetable oil to the pan.
Add onions & peppers and cook until they are soft, then add spices and a little salt to taste, mix well.
Add can of tomatoes with green chile's (including juice), rice, and stock and stir together, cover and let simmer until liquid is absorbed and the rice is cooked, about 10 minutes. Taste and re-season if needed, top with cheese and cover, cook over low heat until the cheese has melted. Garnish with chopped green onions.
Serve with soft tortillas or chips.
*Omit cheese if using the tamale topping.
Follow these instructions for Tamale Pie:
Preheat oven to 375°.
In a medium saucepan, heat milk with 1 teaspoon salt and the butter. When the milk is hot, but not boiling, gradually stir in the 1/2 cup yellow cornmeal. Continue cooking until thickened, stirring constantly.
Remove from heat and stir add the cheese and beaten eggs. Stir to blend.
Place meat mixture into an oiled baking dish and top with tamale mixture, bake for 20-25 minutes or until lightly browned.