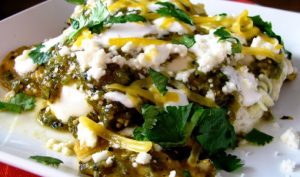 1 ½ cups roasted chicken, shredded
1 1/2 cups red or green salsa
3/4 cup chicken broth
1/2 cup sour cream
1 bag tortilla chips
1/4 cup chopped cilantro
2 cups shredded cheese, any cheddar-jack blend or Mexican crumbled cheese
1 large Ca. Hass avocado, sliced
½ cup sliced jalapenos, optional
Preheat your oven to 350°.
Combine the salsa and chicken stock into a large saucepan and bring to a simmer. Add the chicken and cook for 10 minutes over low. Remove from heat and add the sour cream and cilantro, stir to blend.
In a 9 x 12 baking dish, layer half of the chips and top with half the chicken mixture, and top with half the cheese. Repeat layer with remaining ingredients and bake for about 30 minutes or until all hot and gooey! Top with avocado slices and jalapeños if using.