Here's a 'pantry' style dish, use leftover or rotisserie chicken, frozen (defrosted) shrimp, lobster or leave all protein out and just enjoy.
The best rice to use is Arborio  or  Carnaroli rice from Italy. This short grain rice will release its starch into the dish as you add stock and stir making the risotto nice and creamy.
Another pantry ingredient is dried mushrooms, keep them around all year to add deep flavor to any dish. You could add some sliced fresh mushrooms as well if you like. I also keep lots of chicken stock in my pantry/freezer, organic and low sodium if I don't make it myself. Be sure to soak the dried mushrooms in chicken stock for at least 20 minutes to rehydrate. Drain the mushrooms, strain the liquid and use as part of the stock  in the recipe, the liquid gives a rich deep flavor to the dish. Use a drinkable dry white wine, unsalted butter and freshly grated parmesan cheese, which you should also have in your pantry.
Optional ingredients are chopped garlic (you all know I'm allergic so it's a no-no for me), a teaspoon of saffron threads.
That's it, all you need to make a great risotto with items from your pantry. Need to stock your pantry? Check out my first book, 'What's In Your Pantry'.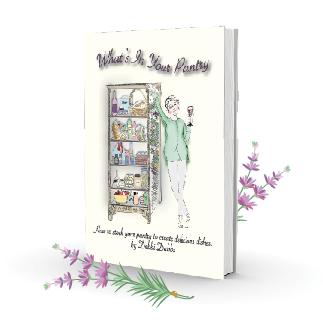 Mushroom Risotto with Chicken
1 small package dried mushrooms, such as porcini or mixed mushrooms
1 quart chicken broth
1 tablespoon olive oil
1 tablespoon chopped shallot
Sea salt and fresh ground pepper
1 cup arborio rice
½ cup dry white wine
1 cup cooked chicken, room temperature
½ cup grated Parmesan cheese, plus more for serving
Place the mushrooms in a bowl and cover with chicken broth. Let stand at least 20 minutes to soften. Drain and place the stock into a saucepan with the rest of the 1 qt. of stock. Heat and keep warm. Chop the mushrooms and set aside.
In a large sauté pan heat the oil over moderate heat. Add the shallot and cook, stirring occasionally, until translucent. Add the rice and stir until it begins to turn opaque, about 2 minutes.
Add the wine and cook until all of the wine has been absorbed.
Add about 1/2 cup of the simmering broth and cook, stirring frequently, until it has been absorbed.
Continue to cook the rice, adding broth 1/2 cup at a time and allowing the rice to absorb it before adding the next 1/2 cup. Cook the rice in this way for about 20 -25 minutes in. If you use all the broth but the rice isn't cooked through you can add water and cook until it's done.
Add the chicken, mushrooms, Parmesan cheese and heat through. Taste for seasoning and add salt and pepper as needed.
Serve the risotto with additional Parmesan.