Here's a special Mother's Day menu that I love. It's a throw \back from the 70's when Veal Oscar was on every fine dining menu. I love it still but with a thick filet mignon. It may seem like a lot of work (but mom's worth it, right?). It's not difficult but it will take some organization. Be sure to read through the recipe before you begin and make sure that you have all the ingredients.
A couple of tricks for you begin with what you can do ahead of time. You can 'poach' the potatoes the day before then let come to room temperature before roasting. Brown the steaks ahead of time and refrigerate, let come to room temperature also before placing into the oven. If you brown the steaks at the last minute, put the potatoes on the sheet tray and begin roasting, when the steaks are browned place alongside the potatoes in the oven to finish at the same time.
Make the strawberry sauce ahead of time and keep refrigerated. You can even make the whipped cream ahead of time as well. It will hold for a long time.
And last but definitely not least is the Bearnaise Sauce, I'll forgive you if you decide to use the package mix but it's really a sad imitation of a real Bearnaise sauce. Try making it on your own, you can even make it an hour ahead of time. Again, it's important to read through the entire recipe before you start. Be adventurous! Happy Mother's Day!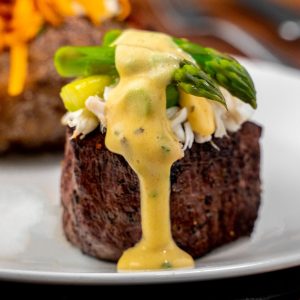 Stonyriver Steakhouse
Menu
Filet Oscar
Oven Roasted Baby Potatoes
Strawberry Shortcake