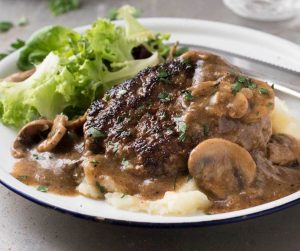 Salisbury Steak with Mushroom Gravy
Here's a great recipe for a weeknight dinner, easier than stopping at the store or fast food for dinner. Make sure to stock your pantry ahead of time.
Salisbury Steak
1 pound ground beef
1/2 cup panko breadcrumbs (or 1/3 cup ordinary breadcrumbs)
1 egg
2 tablespoons ketchup
1/2 teaspoon Worcestershire sauce
2 teaspoon dry mustard powder
1 teaspoon garlic powder
Large pinch of sea salt and pepper
1 tablespoon olive oil
½ onion, finely chopped
1 package mushrooms, sliced or 5 oz.
Gravy
2 tablespoons unsalted butter
3 tablespoons flour
2 cups beef stock
2 teaspoon Dijon mustard
2 teaspoon Worcestershire sauce
Sea salt and pepper
Be sure to form the patties into ¾" thick 'burgers' and cook according to directions. This will ensure that your Salisbury Steaks come out perfectly cooked and not overdone. The recipe is really as easy as cooking one of those frozen dinners and tastes so much better! Serve with mac and cheese, mashed or roasted potatoes.
Mix the Salisbury steak ingredients with your hands or a wooden spoon, form into 4 thick patties (about ¾" thick) and set aside.
In a deep sided skillet, heat oil and when hot add onion and sauté until translucent. Add the mushrooms into the pan and cook, stirring until lightly browned. Transfer into a bowl.
Add a splash of oil, if needed to the pan and add the meat patties, cook the first side for 1 minute or until browned, then flip and brown the other side (they will still be raw inside).
Take the skillet off the stove and transfer meat patties onto a plate. Turn the heat down to medium low.
Return skillet to the stove and add butter. Once melted, add flour and cook for 30 seconds. Whisk in remaining Gravy ingredients until smooth. Increase heat to medium then transfer the reserved onions and mushrooms into the gravy. Stir, then add the patties into the gravy along with the juices on the plate. Cook for 7 minutes, or until gravy is thickened and patties are just cooked through, stirring occasionally around the steaks. If the gravy thickens too quickly, add more water.
Remove steaks onto a plate. Adjust the seasoning, if needed, with salt and pepper.
Adapted from Recipe Tin Eats
Photo: Recipe Tin Eats