Santa Maria style bbq tri tip is traditionally made with a simple rub and grilled over hard wood, sliced thin and served with salsa, pinquinto beans and tortillas. You can find bbq's on most street corners in Santa Maria but if you can't get there, grill up your own. I prefer a wet marinade for a little extra flavor and sometimes I'd rather cook it in the oven so I've offered a recipe for both. Be sure to let it rest after grilling and slice it thin against the grain. Make extra for sandwiches or tacos or heating leftovers up to serve with some nice fried eggs. You'll want to make sure you have enough so plan on 1/2 # per person.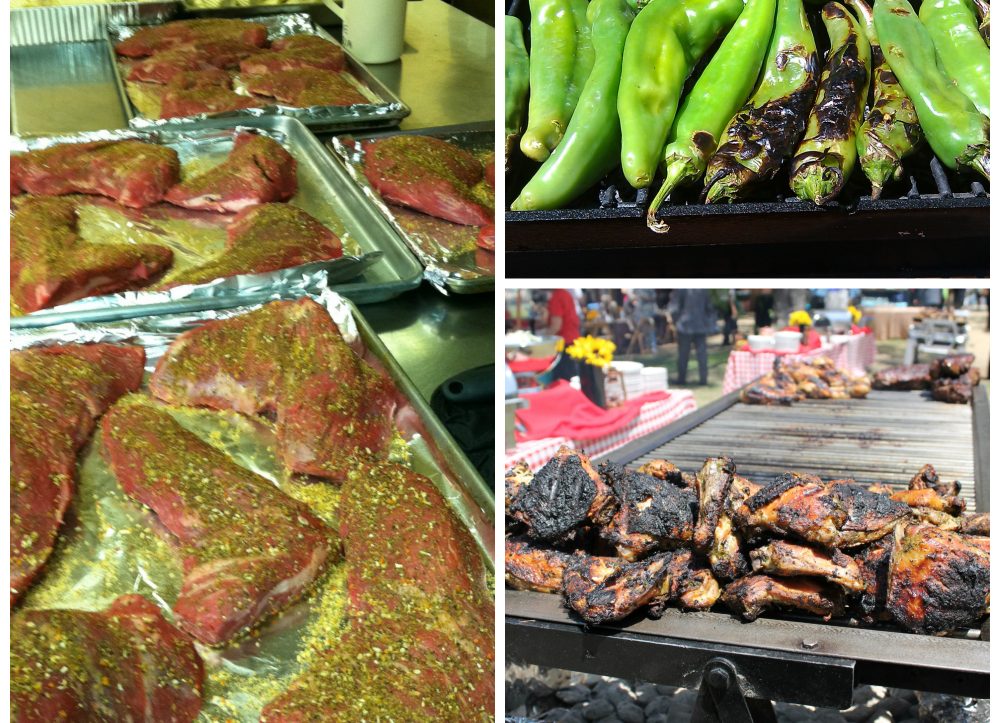 Santa Maria Style Tri Tip
1/2 cup red wine
1/2 cup olive oil
2 tablespoons Worcestershire
1 tablespoon soy sauce
1 lemon, juiced
3 cloves garlic, minced
1/4 teaspoon dry mustard
1 tri tip, about 2 1/2 – 3 pounds
Combine red wine, oil, Worcestershire, soy, lemon juice, garlic and mustard.
Marinate meat in sauce in refrigerator for up to 2 hours, turning several times.
Grilling Method
Remove from refrigerator 2 hours before grilling. Grill over medium heat about 15 to 20 minutes on each side, brushing frequently with marinade. For a more accurate temperature use a probe style thermometer that has been designed to be used with a grill. Use the temperature guides below for cooking.
Oven Method
Preheat the oven to 450°. Remove the meat from the marinade and pat it dry. Discard the marinade.
Place the tri-tip, fat side up, on a rack in a shallow roasting pan. Use a probe style thermometer inserted into the center of the meat. Set temperature for 115° - 120° for rare, 120° - 125° for medium-rare or 130° for medium, it is not recommended to cook tri tip higher than 130°, the meat will be tough and dry.
Transfer the meat to a carving board or platter, cover loosely with foil, and let it rest for 10 to 15 minutes before carving to allow the residual heat to complete the cooking and the juices to stabilize.
Slice the meat into thin slices across the grain.
Santa Maria Pinquinto Beans
1 pound Rancho Gordo dried heirloom Santa Maria pinquito beans
10 cups water, divided
3 tablespoons olive oil, divided
1 carrot, peeled
½ onion, chopped
1 celery stalk
3 teaspoons kosher salt, divided
2 slices bacon, diced
1 large red onion, chopped
3 cloves garlic, minced
6 ounces tomato purée
2 tablespoons brown sugar
2 teaspoons ground dry mustard
1 teaspoon Tabasco sauce, optional
Pick through the beans and remove any foreign matter. Rinse with cold water. Place the beans in a large bowl, cover with 6 cups of water and refrigerate overnight.
Drain the beans and rinse. Place the beans in a pot with 4 cups of water, 1 tablespoon olive oil, carrot, onion and celery. Bring to a boil and then reduce to a simmer. Cover and cook for 1 hour or until the beans are tender.
Season with 1 teaspoon kosher salt, then allow the beans to cool in the liquid. Once cool, remove and discard the carrot, onion and celery.
In a large pot set over medium heat, add bacon and remaining olive oil. Cook until bacon is golden brown. Add the red onion and cook for 5 minutes, stirring occasionally. Add the garlic and cook for 2 minutes more. Add the tomato purée, brown sugar, dry mustard and Tabasco sauce. Next, add the reserved beans, 2 cups of the bean-cooking liquid, 2 teaspoons kosher salt and cook for 30 minutes at a low simmer. The beans can be refrigerated for up to one week, or freeze for up to 3 months.
Courtesy of Cambria Winery
Rancho Gordo Beans can be purchased from www.ranchogordo.com
Santa Maria Style Salsa
3 medium fresh tomatoes, chopped
½ cup finely chopped celery
½ cup chopped green onions
½ cup finely chopped California green chiles
2 tablespoons snipped cilantro
1 teaspoon vinegar
Dash of Worcestershire sauce
Pinch of garlic salt
Pinch of dried oregano, crushed
Few drops of hot pepper sauce
Combine all ingredients in a bowl, cover and let stand for one hour to blend flavors.