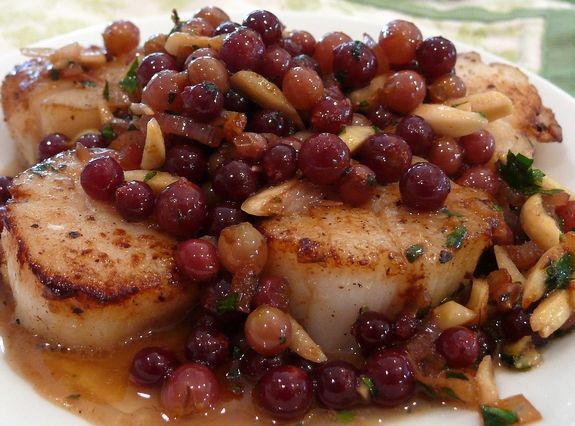 16 large sea scallops, side muscles removed
5 Tablespoons unsalted butter, divided
1-1/2 Tablespoons minced shallots
2/3 cup Champagne grapes (4 ounces) or black grapes, halved
1-1/2 Tablespoons fresh lemon juice
1/3 cup slivered or sliced almonds, toasted
1-1/2 Tablespoons chopped fresh Italian (flat-leaf) parsley
Salt and pepper
Melt 3 Tablespoons unsalted butter in a large skillet over medium-high heat. Cook the butter until it is browned, about 2 minutes. Salt and pepper your scallops before adding them to the pan. Cook 2 minutes on each side and transfer to a dish, covering to keep warm.
Melt the remaining 2 Tablespoons of unsalted butter in the same skillet over medium-high heat. Add shallots and grapes; sauce until the shallots are golden brown, about one minute. Stir in fresh lemon juice and any accumulated scallop juice from the plate of cooked scallops. Bring to a boil and season with salt and pepper. Stir in almonds and parsley.
Place scallops on individual plates and spoon the sauce over them. Serve immediately