This is a recipe that we prepared in our Feb. classes and I've updated the brownie recipe to a new one that I really prefer. The recipe is from King Arthur Flour Co. If you've never been to their website, you should really treat yourself! Enjoy!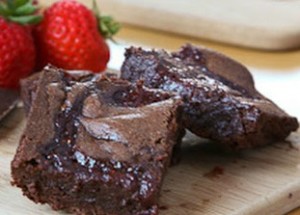 1 cup unsalted butter
2 1/4 cups sugar
1 1/4 cups Double-Dutch Dark Cocoa or Dutch-process cocoa
1 tablespoon espresso powder
1 teaspoon salt
1 teaspoon baking powder
1 tablespoon vanilla extract
4 large eggs
1 1/2 cups King Arthur Unbleached All-Purpose Flour
2 cups chocolate chips
1 cup chopped nuts, optional
Cheesecake filling
12 oz. cream cheese, room temperature
¼ - ½ cups powdered sugar
¼ cup strawberry jam
1 pint strawberries, halved
Preheat the oven to 350°F. Lightly grease a 10" x 15" jelly roll pan or a 9" x 13" pan. For guaranteed easy removal of the brownies, line the greased pan with parchment, and grease the parchment.
In a saucepan set over low heat, melt the butter. Add the sugar, stirring to combine. Remove from heat.
Stir in the cocoa, espresso powder, salt, baking powder, and vanilla.
Whisk in the eggs, stirring until smooth.
Add the flour, chips, and optional nuts, again stirring until smooth.
Spoon the batter into the prepared pan.
Bake the brownies for 28 to 34 minutes, until a cake tester inserted into the center comes out clean. The brownies should feel set on the edges, and barely set in the center.
Remove the brownies from the oven, and cool for at least 1 hour before cutting.
Use a 1 1/2" round cutter to cut as many circles as possible (about 46) out of the brownies in a 10" x 15" pan. You'll get about 38 from a 9" x 13" pan. Wrap well; enjoy the leftover scraps.
Filling
Combine the cream cheese, powdered sugar and strawberry puree until smooth.
Once the brownies have cooled, pipe the cheesecake filling into the center and top with the strawberry. Top with the halved strawberries, serve immediately. For a great topping marinated the strawberries in some quality balsamic vinegar for about ½ hour!
Store all ingredients separately if serving at a later time.
Adapted from King Arthur Flour