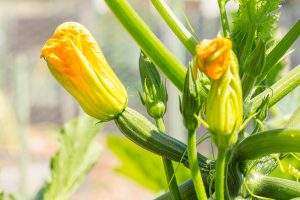 I first tasted these at The Santa Monica Farmers Market about 15 years ago when The Two Hot Tamale girls were doing a demo for their restaurant, Border Grill (now closed, sadly). It's a perfect little snack for an early summer day, zucchini plants are going wild with flowers and are daring to be picked & stuffed. Make sure you pick all male blossoms rather than female blossoms or you won't have any fruit. To tell the difference look at the bottom of the flower, you'll see a round little nub or small zucchini attached, this is a female blossom….move on. The male blossoms are attached just by them stem with no nub at the bottom, you'll be able to tell. Open the flowers gently as there may be a bee inside collecting pollen, he will fly away when you open the petals, be gentle. If you want to wash them use cool water and dry well but do this just before you're ready to prepare the dish. Or you can buy them at your local farmers market, the blossoms are delicate and will last no more than a day so pick right before you're going to make the quesadillas.
Squash Blossom Quesadilla
4-6 squash blossoms, stems and stamens removed, chopped
4 roasted red peppers, drained and chopped
2 ears of corn, roasted, cut off the cob
4 tablespoons cilantro, chopped
1-2 cups Monterrey Jack cheese, grated
8 flour tortillas
Salt and pepper to taste
Tomatillo Salsa
1/2 pound tomatillos, husked, rinsed, and quartered

1/2 - 1 jalapeño pepper, chopped
(depending on how much heat you want)
1 clove garlic, peeled and chopped

1/2 cup packed cilantro leaves

1/2 teaspoon salt,
or more to taste,
squeeze of fresh lime juice
Mix together all ingredients together seasoning with salt and pepper, to taste.
Heat a grill pan or griddle, add 1 Tb. butter. Add a tortilla and cook it on one side until it puffs (about 30 seconds).
Flip tortilla over and sprinkle over entire surface 1/4 cup of squash blossom filling.
Top with another tortilla, and after cheese has melted and the two tortillas stick together (a couple of minutes), flip quesadilla and cook for a couple of minutes more.
Repeat for the remainder of the filling and tortillas.
For the Tomatillo Salsa
Place all ingredients in a blender or food processor and pulse to combine. Blend on low speed until a coarse puree is formed.
Pour into a bowl, taste and add more salt or lime if desired. Salsa can be thinned with a bit of water if desired.