If you google how to bake brownies in a skillet you will find recipes that actually cook in the oven in a skillet rather than a recipe you can cook in a skillet on the stove top. Why bother unless you're going to serve the brownies to your guests in the pan? I'm talking about actually BAKING them in a skillet on the stove top. This makes them super fudgy but a little difficult to get out of the pan so be sure to use a good nonstick skillet. Here are two recipes, one traditional and one cooked in a skillet (a cheater recipe as I used a box mix-yes a box!) You decide which one works for you!
Fudgy Peppermint Skillet Brownies
This recipe yields 2 pans of yummy, fudgy brownies using an 11″ skillet (w/lid) or sauté pan.
1 box brownie mix, plus ingredients on box
¼- ½ teaspoon peppermint extract
peppermint candies, crushed
Mix brownies according to package directions, adding peppermint extract.
Add ½ of the batter to skillet and stir it around over low to medium heat while it 'bakes' and solidifies. Cover and cook over low heat for approximately 10 minutes or until the sides start to crisp. Add candies to the top of the brownies, turn off heat and let the pan sit for about 5 minutes before cutting.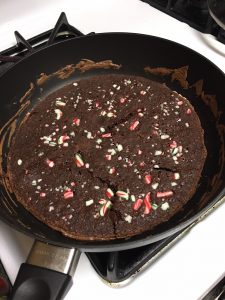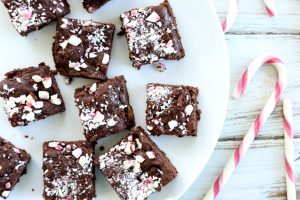 Fudgy Brownies
1 cup flour
¾ cup Dutch cocoa powder
2 cups sugar
¼ teaspoon salt
¼ teaspoon baking powder
3 lg. eggs
½ cup butter, melted (8 Tb)
¼ cup oil, vegetable, olive or flavored olive oil
2 teaspoons vanilla, substitute any flavored extract
¼ cup chopped nuts, chocolate chips, peppermint pieces etc.
Preheat the oven to 375° and lightly grease a 9x13 pan.
Add all the ingredients to a large bowl in the order they are listed. Stir together and beat until the mixture is smooth. Mix in nuts, chips etc. that you'd like to use.
Spoon into the prepared pan and bake 25-30 minutes, or until just barely beginning to pull away from the sides of the pan, remove from oven and let cool.