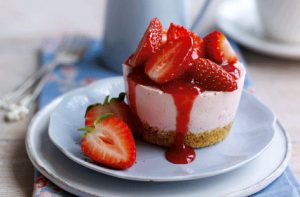 There's almost nothing better in spring than fresh strawberries (except for maybe asparagus, artichokes and morel mushrooms!
Look for strawberries that are red all the way to the top, those will be tasty, ripe strawberries. Pick organic if possible as strawberries are the number one fruit on the 'Dirty Dozen' list to retain pesticides. Pesticides do not wash off, ever. Besides the pesticide residue left on the fruit, the ground is prepared by pumping fumigants into it to sterilize the soil, killing every living creature that lives in the soil. You can read more on EWG's website.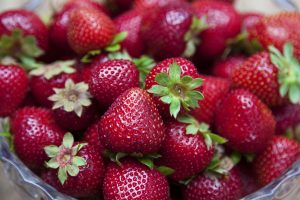 To prepare your strawberries, do not wash until you are ready to use or eat them. Water is their enemy. I like to slice them up and add a little sugar, macerate or squash them down a little and let them sit for awhile while the flavor develops. I sometimes will add a little Grand Marnier to the mix for an added dose of flavor. Spread them on a biscuit, slice of angel food cake, over ice cream or just eat them out of a bowl. Enjoy your strawberries while the sun is shining. Here's a little individual cheesecake recipe for you to enjoy.
Mini Strawberry Cheesecake
Crust:
1 1/4 cups graham cracker crumbs
3 tablespoons brown sugar
5 tablespoons unsalted butter, melted
8 ounces cream cheese, room temperature
1 large egg, room temperature
1/4 cup granulated sugar
1/4 cup sour cream, room temperature
1 teaspoon vanilla extract
Preheat oven to 350°F. Line a 12-cup muffin pan with cupcake liners or oil the inside of small jam jars.
Make the graham cracker crust:
Stir together graham cracker crumbs, sugar, and melted butter. Press about 2-2 1/2 tablespoons of the mixture into the bottom of each muffin liner and press to compact.
Beat room temperature cream cheese with a hand mixer until fluffy. Beat in room temperature sour cream. Beat in egg, sugar, and vanilla extract. (Room temperature ingredients are a must to avoid lumps!)
Evenly divide (about 2-2 1/2 tablespoons each) cheesecake among crusts. Bake for 18-20 minutes, until they just begin to brown. Cool completely and refrigerate for at least 3 hours or overnight.
Serve plain or topped with whipped cream and berries.