Tips from Chef Debbi's presentation at The South Coast Plaza Garden Show
From Your Herbal Garden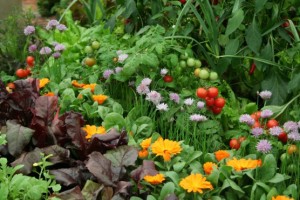 General Guideline for Growing Herbs
Most herbs like well-drained soil let slightly dry out except drought tolerant plants (lavender, rosemary) let those dry out a little bit more. Scratch down and inch or two in the pot and if it's dry water.
Full Sun
Basil – Chives – Dill – Fennel – -Oregano – Rosemary – Tarragon – Thyme – Lemon Verbena
Partial Sun
Chervil – Cilantro (cool season herbs) – Lemon Balm – Mint
Pick before they flower or when they have buds on them
Never harvest more than 1/3 plant, it may not recover
Deadhead some; let others go to seed & flower to attract beneficial insects, butterflies & bees
Annual Herbs such as basil, cilantro, dill, nasturtium that grow and die in a year's cycle.
Biennial Herbs such as sage and parsley will grow one year and bloom/set seed the next.
Perennial Herbs such as bay (which can be grown in a large container), tarragon, lavender, lemon balm, oregano can grow 3 years or longer.
Container Growing
Some larger herbs, rosemary for one, are better grown in the ground. Good for containers, Ca. bay, thyme, lemon balm (mint), parsley
Using a container, choose an appropriate size
Use an organic potting soil
Check for water needs frequently and fertilize with fish emulsion once a month
Herbs for Tea
Bee Balm, Bergamot, German Chamomile a 2' annual, Mint
Fennel, leaves & seeds, Lemon Balm (mint family), Lemon Verbena, Mint, Rose Hips (seeds cases)
Pick leaves in the morning, when they have the most oil in the leaves/flowers
1 cup tea=1/4 cup of leaves and/or flowers, steep 5 minutes
Herbs for Potpourri
Lavender, lemon balm, rose, mint, thyme, calendula, bee balm, sweet woodruff
Cooking with Herbs
Keep herbs in a vase with fresh water; remove any leaves from the bottom of the stem that might be submerged. Do not wash until ready to use. Dry in a rolled up paper towel.
Herbs to Use With Food
Chicken: thyme, rosemary, parsley, tarragon
Pork: sage, rosemary, thyme
Fish: lemon verbena or lemon balm, chives, tarragon, dill, cilantro
Beef: rosemary, thyme, parsley
Lamb: rosemary, thyme, mint
Vegetables: thyme, oregano, lemon verbena
Add dried herbs at the beginning of preparing a dish, crush in the palm of your hand or in a mortar and pestle.
Fresh herbs should be added at the end of cooking.
If using fresh in place of dried use 1 – 2 times as many herbs as the recipe calls for
Herb Butters or Cheese
Drain plain yogurt overnight in cheesecloth
Mix with fresh chopped herbs for a cheese dip
Or
Add chopped herbs to room temperature butter,
Roll up in plastic wrap into a cylinder, freeze and slice off a piece to add to fish, steak or chicken.
Herbal Vinegar
Flavor vinegar for use in cooking and in vinaigrettes.
Bruise one cup of leaves for every 2 cups of white wine or delicate vinegar. Allow to steep for two weeks.
Bath Salts
You can use your favorite essential oil or blend. Mix with Epsom salt, essential oil and a little food dye. Let the mixture dry, place in a jar or muslin bag.
Rosemary Lavender Soap Recipe
3          cups glycerin soap base*
1/4      cup infusion of lavender flowers and rosemary leaves
1 1/2   teaspoon, lavender oil
1/2      teaspoon rosemary oil
1          pulverized dried rosemary
Combine melted base and herbal ingredients, stir until blended, then pour into molds and cool.
* Craft Stores, Michaels
Lip Balm
1 Tb. + 1 tea. Beeswax, chopped
1 Tb. Shea Butter
3 Tb. Almond, Coconut or Olive Oil
15 drops organic essential oil
Melt everything together over low heat except essential oil. Remove from heat and stir in essential oil. Pour into tubes or tins and let cool.