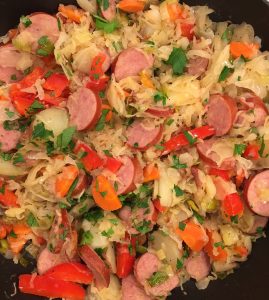 One Skillet Kielbasa, Potatoes, Veg & Sauerkraut
This is a quick and easy one pot dish that you can make stove top or in your Instant Pot. For variety change the vegetables with the seasons if you like.
Serves 6 – 8
4 small red potatoes, cut into slices or chunks
Sea salt and fresh ground pepper
1 ½ cup chicken stock
2 medium carrots, cut into slices or diced
½ medium sized leek, sliced in half and then into half moons
1 red bell pepper, cut into strips
1 kielbasa, cut into ½" pieces
½ cup white wine
1 8 oz. bag Boars Head sauerkraut, drained, you can use a different brand, but I think Boers head is the best I can find
1 tablespoon Italian parsley, minced
Heat a deep sauté pan over medium heat and barely coat the bottom of the pan with a little olive oil or butter. Add the potatoes and stir for a couple of minutes. Sprinkle with a little sea salt and fresh ground pepper, cover the potatoes with chicken stock, reserving the rest of the stock. Cook the potatoes until almost done and the stock has reduced to almost nothing in the pan. Add a little more oil to the pan and add the carrots, cook for 1 minute before adding the leek, red pepper and kielbasa. Season again with a little sea salt and fresh pepper. Add the wine and reserved chicken stock, cook for 5 minutes or until the vegetables have cooked but still have a little crunch. Add the sauerkraut and cook until heated, stirring once or twice. Garnish with parsley and serve.