So have you been baking all that bread? Well, now you need something to go with it. Here's my recipe for Tuscan Bean Soup using pantry items from my first book 'What's In Your Pantry'.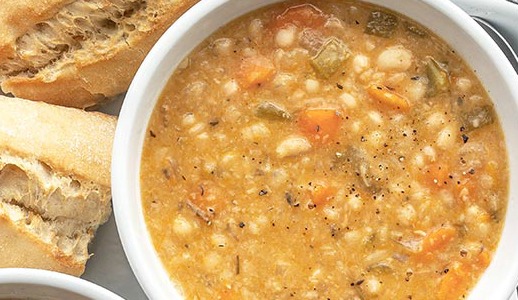 Tuscan Bean Soup
There are as many recipes for Tuscan Bean Soup as there are Italians, everyone makes their soup slightly different. Sometimes I like to use an immersion blender and mash some of the soup when it's finished. Serve with lots of crusty bread and fresh butter.
2 tablespoons olive oil
1 onion, minced
1 clove garlic
¼ lb. pancetta, chopped
1 stalk celery, minced
1 carrot, minced
1 tablespoon tomato paste
1 qt. chicken or vegetable stock
2 cans cooked cannelini beans, white kidney beans will do
1 small can chopped plum tomatoes
1 leftover rind of Parmigiano-Reggiano
2 tablespoons Italian seasoning, ground or crushed
½ bunch fresh sage, chopped
2 sprigs Italian parsley, chopped
Heat a Dutch oven over a medium high heat, add oil and when hot, sauté onions until lightly translucent. Turn down the heat to medium; add garlic and pancetta, stir to cook but do not brown the garlic.
Stir in the celery and carrot, season with a pinch or two of salt and pepper; cook, stirring occasionally until the vegetables are soft. Add the tomato paste and stir until the vegetables are well coated.
Add the stock, beans, tomatoes, cheese rind and seasonings. Bring to a boil, turn down to a simmer and let the soup simmer for at least 30 minutes. The cheese rind should have melted into the soup, but, if there is still a hard piece left, remove it and season to taste with salt and pepper.
Serves 4.