Nothing beats a great pie, perfectly balanced filling and a tender, flaky piecrust. Piecrusts are easy to do, don't let them intimidate you! My Grandmother taught me her secrets to a good crust, use good butter (unsalted), keep all of your ingredients very cold and work quickly. So there's a little more to it than that but remember those three things and you'll be fine.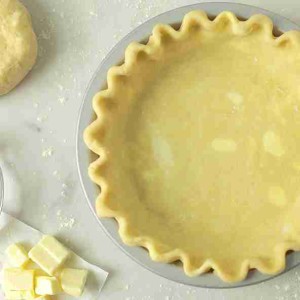 This recipe calls for shortening which creates a tender, flaky crust, my Grandmother used lard and if it's available to you it may be a better choice than shortening (which is another discussion). If you'd rather not use lard or shortening you could use all butter and the pie will be just as delicious.
Another trick that I picked up from King Arthur Flour is instead of just cutting your piecrust in half; cut it in 2/3 and 1/3 discs. The bottom of the pie will take more crust because it will hold the entire filling and the top crust only needs to cover all the ingredients. Well, duh…..why we never thought of that before! (See this is probably why I don't bake much).
If you'd like to pre-make your pie crust you could freeze it two ways; one freeze the disc or roll the crust out, fit it into the pan and freeze, defrost overnight in the refrigerator and then continue with the recipe.
I cut the butter into the dry ingredients in the food processor, it takes less time, and just pulse it a few times until it looks like peas and you'll be fine. I like to put the flour/butter ingredients into a bowl and incorporate the ice water using my fingers and tossing the dough until it comes together, that way I make sure I'm not adding too much liquid. I turn it out onto a rolling mat while it's still very crumbly and bring it all together quickly by rolling and kneading lightly. I add only enough flour to the rolling mat as needed to keep the dough from sticking to the mat; I use a bench or dough scraper to actually fold it all together. Once the water hits the dough you begin developing gluten, which can make the dough tough so work it as little as possible at this stage. Press the dough into discs and refrigerate for at least an hour and then roll out and blind bake as described in the recipe. Blind baking helps keep the crust light and flaky, especially with a wet filling. Protect the edges of the crust if they start to brown by using a pie shield or cover with the edges with foil. Bake up some pies today~ Happy Holidays!
Perfectly Flaky Pie Crust Recipe
Talisman Designs Adjustable Pie Crust Shield, BPA-free Silcone, Red, Fits 8.5″ – 11.5″ Rimmed Dish