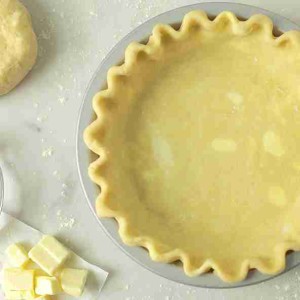 Perfectly Flaky Pie Crust
Makes 2 – crusts
Adapted from 'What's In Your Pantry' by Debbi Dubbs
2 1/2 cups (10 ½ oz.) all-purpose flour, I prefer King Arthur Flour
1 1/4 teaspoons salt
6 tablespoons unsalted butter, chilled and cubed
1/2 cup vegetable shortening, chilled
6-8 tablespoons ice water, depending on texture of dough
To add a little sweetness, add 1 teaspoon of sugar;
for a savory dough 1 teaspoon finely chopped herbs
Refrigerate all ingredients before beginning
Add flour and salt into the bowl of a food processor; pulse a few times to incorporate all the ingredients. Add sugar or herbs here as well.
Add the cold butter and process until the mixture is crumbly and the butter is pea size.
Place the mixture into a wide bowl and add water 1 tablespoon at a time until the mixture comes together. Don't overwork the dough or it will be tough, not flaky. Once the dough begins to form large clumps use floured hands to bring it together into a ball and then press into a disc; divide the dough into two pieces. You'll need more dough for the bottom crust so make one disc using 2/3 of the dough and one disc using 1/3 of the dough; wrap in plastic wrap and refrigerate for at least 1 hour or several up to one day.
Dough can be wrapped well at this point and frozen for up to three months. Let the dough defrost overnight in the refrigerator before using.
Lightly grease your pie pan to help ease out that first piece. Gently roll the larger chilled disk out on a floured counter or rolling mat, lifting and moving the dough every few rolls to help prevent sticking. Add only enough flour to the counter to keep the dough from sticking.
Place your pan on top of the dough to make sure it is the correct size; it should be slightly larger than the pan, approximately 13". Fold the dough in half and then in half again, pick it up and lay it in the pie pan. Unfold and gently lay the dough into the pan without stretching the dough. Never pull the dough to stretch it and lightly press it into the pan.
Cover and refrigerate for 30 minutes. Preheat your oven to 400°.
To blind bake:
Blind baking is baking the dough without filling.
Prick the bottom and sides of the dough; cut a piece of foil large enough to cover the bottom and sides of the dough, butter the dull side and lay the buttered side on the bottom of the dough and press into the sides. Line with pie weights or dried beans and bake in the center of the oven for 10 minutes, remove the weights and foil and continue baking for another 10 minutes or until lightly browned. Let cool before filling.
Continue with any pie recipe.