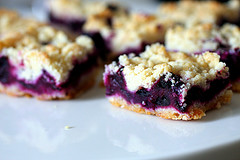 Blackberry Crumb Bar
6 tablespoons unsalted butter melted, and
1/2 cup (1 stick), room temperature, plus more for pan
1 3/4 cups all-purpose flour (spooned and leveled), plus more for pan
1/2 cup packed light-brown sugar
1/2 teaspoon salt
1/2 teaspoon baking powder
1 cup confectioners' sugar
1/2 teaspoon Grand Marnier or pure vanilla extract
2 large eggs
10 ounces blackberries
Preheat oven to 350°. Butter an 8-inch square-baking pan. Line bottom with parchment paper, leaving an overhang on two sides; butter and flour paper, tapping out excess.
Make topping:
In a medium bowl, whisk together melted butter, brown sugar, and 1/4 teaspoon salt; add 1 cup flour, and mix with a fork until large moist crumbs form. Refrigerate topping until ready to use.
In a medium bowl, whisk together remaining 3/4 cup flour, baking powder, and remaining 1/4 teaspoon salt; set aside.
In a large bowl, using an electric mixer, beat room-temperature butter, confectioners' sugar, and vanilla until light and fluffy, add eggs, one at a time, beating well after each addition. Reduce speed to low; mix in flour mixture. Spread batter evenly in pan; sprinkle with blackberries, then chilled topping.
Bake until golden and a toothpick inserted in center comes out with moist crumbs attached, 40 to 45. Cool completely in pan. Using paper overhang, lift cake onto a work surface and cut into 16 squares.
Adapted lightly from Martha Stewart
Photo: Smitten Kitchen