Oh all those beautiful rosy peaches from the farmers market! They smell like summer and I don't know about you but I wait all year for them to show up!
I have a peach tree but that in no way yields enough peaches to satisfy my sweet tooth. Seasonal peaches are available in California from June to Sept.. Peaches from other parts of the world are usually picked hard and mostly premature and will never develop that sweet summer flavor.
The following is part of the prologue to David Mas Masumoto's book 'Epitaph for a Peach', he is talking about the Sun Crest peach but I think it reflects all good peaches. "Sun Crest is one of the last remaining truly juicy peaches. When you wash that treasure under a stream of cooling water, your fingertips instinctively search for the gushy side of the fruit. Your mouth waters in anticipation. You lean over the sink to make sure you don't drip on yourself. Then you sink your teeth into the flesh and the juices trickle down your cheeks and dangle on your chin. This is a real bite, a primal act, a magical sensory celebration announcing that summer has arrived. " That sounds like a juicy summer peach to me, what about you?
Choose peaches that yield slightly to pressure, hard fruit isn't ripe and though it will get softer, it won't get tastier. Peaches need to develop flavor and sweetness while still hanging on the tree, color will vary with peach varieties but avoid peaches that show any sign of green. Smell the peach for sweetness and you'll be fine.
Peaches should be kept at room temperature until soft and then refrigerated but don't wait too long to eat them or they'll over ripen.
I find it pretty easy to peel a ripe peach with a sharp paring knife or you can blanch in boiling water for a few seconds, don't over do or you'll start to cook the fruit flesh.
Here's my favorite cobbler recipe that I pieced together from two different recipes that I love. One from my favorite boysenberry pie and the cobbler batter from Marcy Masumoto's 'French Peach Cobbler' recipe in the Masumoto Families new book,  The Perfect Peach: Recipes and Stories from The Masumoto Family Farm.
Peach Cobbler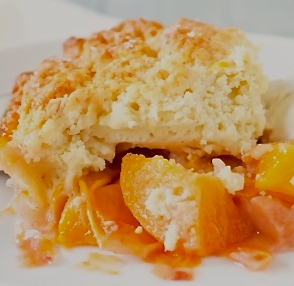 Filling
4          cups peeled, chopped fresh peaches
1           cup sugar, approximately
¼        cup cornstarch
pinch sea salt
1          teaspoon cinnamon
1/3      cup Grand Marnier
1          tablespoon fresh lemon juice
Batter
½        cup unbleached all-purpose flour
1/3      cup sugar
½        teaspoon baking powder
¼        teaspoon sea salt
2          tablespoons unsalted butter, room temperature
1          egg, lightly beaten
Preheat the oven to 375°. Butter a 9" square baking pan and set aside.
Filling:
Add peaches to a medium sized bowl and toss gently with sugar. Depending on how sweet the peaches are, add more or less sugar.
In a small bowl, mix together the cornstarch, sea salt, cinnamon and Grand Marnier. Toss the peaches with the cornstarch mixture and lemon juice.
Add the filling to the prepared pan.
Batter:
Combine the flour, sugar, baking powder and sea salt, mix well. Add the butter and egg, stir together until the batter is smooth.
Drop the batter by spoonfuls onto the fruit mixture and bake 40 – 45 minutes or until bubbly and golden.
Remove from oven and cool before serving.