Warm, hearty shanks usually like a long cook in the oven, these are done in an Instant Pot or pressure cooker and take only a few hours. Sauté the shanks and the vegetables and then set the timer, take a nap or have a glass of wine and relax, let the cooker work its magic. A great dish for any special occasion or holiday.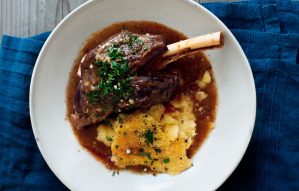 Braised Lamb, Veal or Beef Shanks
5 sprigs of fresh thyme
2 dried bay leaves
4 lamb, veal or beef shanks (make sure they will fit into your pot or have the butcher cut them for
you
Sea salt and fresh ground pepper
2 - 3 tablespoons sunflower or olive oil
1 medium onion, about the size of your palm cup onion, finely diced
1 garlic clove, minced
3 large stalks celery, finely diced
2 medium carrots finely diced
2 ½ cup dry red wine
2 cups chicken stock
1 large can crushed or peeled and chopped tomatoes
2 tablespoons tomato paste
Place the thyme and bay leaves into a piece of cheesecloth, close by tying the ends of the cheesecloth together. This is your bouquet garni. Set aside.
Set your Instant Pot to sauté and add a little sunflower or olive oil.
Dry the shanks with a cloth or paper towels, season with salt and pepper.
Brown the shanks on all sides, then set aside. Add the onion, garlic, celery and carrots and sauté until the onions start to turn translucent. Add wine, stock tomatoes, tomato paste and bouquet garni. Stir well, snug the shanks into the liquid until they are completely or nearly covered with liquid.
Close and set the vent to seal. Set the Instant Pot to Manual pressure cook high for 50 minutes. Let the pot naturally release pressure, 20 min. or so.
Remove the shanks and set them aside on a plate and keep warm by covering with foil.
Strain the liquid squeezing out as much liquid as possible. Measure liquid and for each cup of liquid, make gravy in the Instant Pot using the following method.
Per 1 cup of liquid:
1 ½ tablespoons of butter or olive oil
1 ½ tablespoons all-purpose flour
Melt butter or oil in the pot on sauté, whisk in flour and let cook, while continuing to whisk until the flour turns slightly browned.
Remove as much fat from the cooking liquid as possible; slowly add the liquid into the flour mixture while whisking. As the liquid begins to thicken add more liquid and whisk until the gravy is thick, taste and season with salt and pepper. If gravy is too thick, add a little stock or water until it's the consistency you like, it should be on the thinner side for this dish.
Serve atop a good helping of mashed potatoes or polenta.
If you'd like to serve the cooking vegetables, remove bouquet garni and stir the vegetables into the gravy.