Here's a lovely menu for your Valentine~
I saw cool spring asparagus in the market recently and California strawberries are ripe and red and ready to go. This may seem like a daunting menu to make but there are some tricks that can make it a little easier on you as you prepare the menu. Read the recipe all the way through before beginning so that you can lay out your ingredients. The Chocolate-Strawberry Cheesecake Trifle can be made the day ahead. You could lightly steam the asparagus ahead, refrigerate or let it sit at room temperature. While you are searing the steaks, bring a saucepan with a steamer basket to a boil for the crab. Steam the crab and sauté the asparagus while you are making the bearnaise sauce. Everything is hot at the same time and ready to be assembled. Enjoy!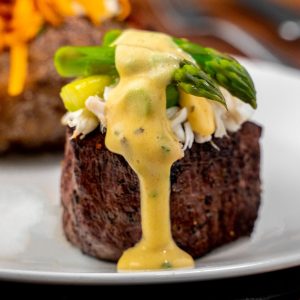 Filet Oscar
2 (2-inch-thick) filets mignons
2 tablespoons olive oil
½ lb. thin fresh asparagus
6 ounces fresh crab meat, room temperature
Preheat the oven to 400°.
Bring steaks to room temperature for about 30 minutes.
Heat a large skillet.
Dry the filets with a paper towel.
Brush the filets lightly all over with the oil. Season both side wells with sea salt and pepper.
When the pan is hot, add the steaks and sear evenly on all sides for about 2 minutes per side or until well browned. If the steaks won't release from the pan, wait another minute or so and it will release when browned.
Arrange the steaks on a parchment lined baking sheet and place into the oven and cook until 120°, about 10 minutes. Remove from oven and let rest for 5 minutes.
Asparagus and Crab
While the steaks are cooking you can lightly steam the asparagus or cook it in the still hot pan that you cooked the steaks in.
Cut the stems from the asparagus so the spears are all the same length. Lightly toss with a little olive oil and season with salt and pepper. Cook until you can pierce with a knife, about 5 minutes. Let rest until you're ready to assemble the dish.
Warm the crab in a steamer basket over simmering water for about 5 minutes.
Make the bearnaise sauce at the very last minute.
Assembly:
Place the steaks on two plates, top with asparagus spears, then add the crab and drizzle with sauce.
Bearnaise Sauce
Using an immersion blender and a tall narrow jar to make the sauce rather than in a double boiler makes getting this sauce on your food much easier (and quicker).
3 large egg yolks
¼ teaspoon cayenne pepper
¼ teaspoon sea salt
1 ½ tablespoon lemon juice, plus more to taste
1 ½ tablespoon water
1 ½ sticks unsalted butter
1 tablespoon minced tarragon leaves, preferably fresh
Place egg yolks in a tall narrow container that the blender stick fits in all the way to the base.
Add water, lemon juice, cayenne pepper and salt. Mix to combine.
Melt butter in a small saucepan. Spoon off much of the white as it melts.
With the blender stick on, slowly pour the butter in a thin stream into the eggs over around 45 seconds. Leave any of the white part of the butter that you couldn't scrape off. (It won't hurt if some manages to slip in.
Blend for a further 10 seconds, moving the stick up and down.
If too thick, mix in warm tap water 1 teaspoon at a time.
Taste for lemon level, adding a little more if desired, add the tarragon leaves and serve immediately. If you need to reheat do it in a small saucepan and heat slowly, if the sauce starts to separate (break) add a drop of water one at a tie until it comes back together.
Chocolate-Strawberry Cheesecake Trifle
16 ounces cream cheese, softened
2 cups powdered sugar
8 ounces sour cream
½ teaspoon vanilla extract
¼ teaspoon almond extract
1 cup whipped cream + more for garnish
1 angel food cake
2 quarts, fresh strawberries
6 ounces shaved chocolate
In a large bowl, beat cream cheese and powdered sugar until fluffy. Add sour cream, vanilla and almond extract. Fold in whipped cream. Tear the angel food cake into tiny pieces and add to mixture. Set aside. Combine sliced strawberries and sugar until sugar is dissolved. In trifle dish or glass bowl, layer the two mixtures. Finish with fresh strawberries on top. Chill before serving.
Immediately prior to serving, garnish with a dollop of whipped cream and sprinkle with chocolate shavings. Refrigerate for several hours.