Why fight the crowds in a restaurant? Here are a few fool-proof recipes to create on your own!
House Salad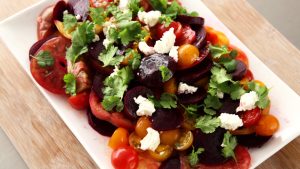 Beet Salad with Goat Cheese and Balsamic
I created this recipe to mimic the fabulous salad served at The Sea Chest restaurant in Cambria, Ca.
2-3 baby beets, use a variety of beets (red, striped, gold)*
1 cup baby greens
½ cup snow peas, cut in half on the diagonal
1 small carrot, sliced or grated
1 small Persian cucumber, sliced
¼ cup toasted walnuts
1/2 cup cherry tomatoes, halved
2 ounces crumbled blue cheese
Sea salt and fresh ground pepper
Balsamic Vinaigrette
½ shallot, minced
¼ cup good balsamic vinegar
1 teaspoon Dijon mustard
½ cup extra virgin olive oil
salt and pepper
Preheat the oven to 400°.
Wrap each beet in a piece of aluminum foil and drizzle generously with olive oil and pinches of salt and pepper.
Place the beets on a baking sheet and roast for 40 to 90 minutes, or until soft and fork-tender, the size of the beet will determine the cooking time.
While the beets are cooking, make the vinaigrette.
Mix together the minced shallot, balsamic vinegar, and Dijon mustard, shake or whisk to mix well. While still whisking slowly pour in the oil until the mixture slightly emulsifies. Set aside while you finish the beets and create the salad, shake again just before serving.
Remove the beets from the oven, loosen the foil, and set aside to cool. When they are cool to the touch, peel the skins using a paper towel and just rubbing the skin off.
Let the beets cool and chill them in the fridge until ready to use.
Slice the beets into ¼-inch-thick rounds or if they're small, use whole or half. Assemble the salad with the greens, beets, snow peas, carrot, cucumber, walnuts, cheese, and cherry tomatoes. Drizzle with balsamic vinaigrette. Season with flaky sea salt and pepper and serve.
Baby beets may be hard to find. Trader Joe's usually have some in a box in the produce section, they have already been cleaned & steamed so they're easy to use. If you can't find them, check out melissas.com, they carry them as well.
The Best Beef Stroganoff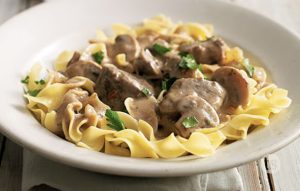 Beef Stroganoff
2 tablespoon olive oil, or more if needed
2 tablespoons unsalted butter, or more if needed
1 small onion, diced
1 pound crimini mushrooms, sliced
3 pounds tenderloin steak, sliced into thin strips
½ cup flour
salt and pepper
¼ cup dry white wine
2 tablespoons Dijon mustard
2 tablespoons Worcestershire sauce
1 ½ cups beef stock
½ cup creme fraiche, or more to taste
½ pound egg noodles, prepared according to box directions
Heat a large sauté pan and add oil and butter. Sauté onions until
translucent but not brown. Set aside. Add more oil and butter if needed;
sauté mushrooms until lightly browned and set aside with onions.
Dredge the meat in the flour seasoned with salt and pepper. Shake off
excess flour and brown the meat in small batches. Don't overcrowd the pan
or the meat will steam and not brown. Set meat aside with onions and
season with salt and pepper.
Deglaze the pan by adding the wine and scraping the bits from the bottom
of the pan, called fond. Reduce slightly and add the mustard,
Worcestershire sauce and stock. Return onions, mushrooms and steak to the
pan and simmer until slightly thickened.
Reduce heat to low and stir in the creme fraiche, re-season with salt and
pepper, heat until warmed through and serve over egg noodles.
Here's a recipe that some recipe tasters were able to enjoy recently. Make some for this Valentine's Day!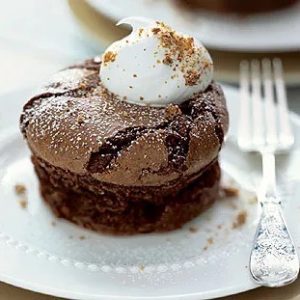 Chocolate Amaretti Tortes
Makes 4
Tortes
4 ounces semisweet chocolate, chopped
3/4 cup sliced almonds, toasted
12 1 1/2-inch-diameter amaretti cookies (Italian macaroons), about 2.6 ounces total
¼ teaspoon cinnamon
Pinch of salt
1/2 cup (1 stick) unsalted butter, room temperature
½ cup sugar
3 large eggs
Topping
3/4 cup chilled whipping cream
1 ½ teaspoons powdered sugar
1/2 teaspoon almond extract
2 amaretti cookies, crumbled
Tortes:
Position rack in center of oven and preheat to 350°F. Butter four 3/4-cup custard cups or soufflé dishes. Dust with flour; tap out excess. Line bottom of cups with parchment paper rounds. Place on rimmed baking sheet.
Stir chocolate in top of double boiler set over simmering water until melted and smooth. Using on/off turns, blend almonds, amaretti, cinnamon, and salt in processor until finely ground. Transfer to medium bowl.
Add butter, sugar, and eggs to processor; mix until blended and smooth, occasionally scraping down sides of bowl, about 3 minutes. Add cookie mixture and melted chocolate. Using on/off turns, process just until blended.
Divide batter among custard cups. Bake until tops of tortes are dry and puffed and tester inserted into centers comes out with moist crumbs attached, about 30 minutes. Transfer cups to rack; cool 15 minutes. Run small knife around edges of cups to release tortes. Turn tortes out onto rack and turn right side up; cool. (Can be made 3 days ahead. Wrap in plastic and store at room temperature.)
Topping:
Beat together cream, sugar, and almond extract in medium bowl until cream holds peaks. (Can be made 4 hours ahead; refrigerate.)
Serve
Place 1 torte on each of 4 plates. Top with dollop of whipped cream, sprinkle with crumbled amaretti, and serve.
Amaretti cookies are available in most Italian deli's and come in two sizes. The larger ones (used in this recipe) are bundled in pairs in colorful wrappers, while slightly smaller ones are packaged and unwrapped in sealed plastic bags. If using the smaller cookies, measure by weight (2.6 ounces total), not count.