Prime Rib actually refers to the grade of the beef that you are using, prime grade is the best you can buy and you will pay dearly for it but it's a true holiday treat. You could purchase a Choice grade standing rib roast and still have a very lovely dinner for a lot less money. If you don't like meat rare to medium then you'll be better off serving another cut of meat for a special dinner as the roast can be dry and tough if overcooked.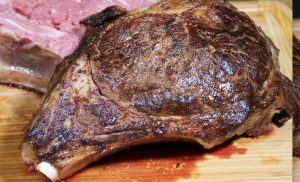 Prime Rib
The easiest holiday roast you can make. Add some scalloped potatoes, a great salad or side vegetable and you're done in the kitchen.
Serves 2 – 4
1 Bone in standing rib roast, prime or choice grade, about 2 ½ - 3 lbs.
Sea salt and fresh ground pepper, I like Himalayan Pink Sea Salt
Mild flavored olive or vegetable oil
Butcher twine, optional
Probe meat thermometer (not optional)
Preheat your oven to 400°. Line a baking or sheet pan with parchment paper and set aside.
*If you'd like to make the roast easier to carve when hot, cut the bone off the meat before cooking. Use a boning knife and slice as close as possible to the bone between the bone and the meat. Now tie the bone back on to the meat with butcher twine, when the roast is ready to slice just cut the twine and remove the bone, saving to make stock or soup, and slice the meat as desired. Remember to always cut across the grain of the meat.
Remove the meat from the refrigerator at least 1 hour before cooking. Dry the meat well then rub it with a little of the oil and season generously with sea salt and pepper. Heat a sauté pan that's just a little larger than the roast over medium high heat, when hot add roast and brown all sides of the meat. Do not add oil to the pan, sear the roast quickly and remove to the prepared sheet pan. If you can stand the roast to rest on the bone then do so, otherwise place on the sheet pan on one side. Insert a probe meat thermometer into the thickest part of the meat without touching any part of the bone.
Cook the roast for 10 minutes and then turn down the oven temperature to 350°. Continue to roast until temperature reaches 130°, about 10 minutes. Remove from the oven and loosely cover with foil and let rest for about 10 minutes. The temperature will rise, this is called carry over cooking time and the roast will be rare to medium rare when sliced. If you'd like the roast closer to medium, cook until the temperature reaches 135°; do not overcook.