An easy weeknight recipe, especially if you make the actual chicken cutlets ahead of time and freeze. Take them out of the freezer and place in the refrigerator before you head out for the day. When you're ready for dinner (or lunch) you can finish the dish in less than 15 minutes, cover some pasta in a microwave dish and cook while the chicken cooks, add a little salad with some freshly grated parmesan cheese and seasonal vegetables for a quick, healthy tasty meal!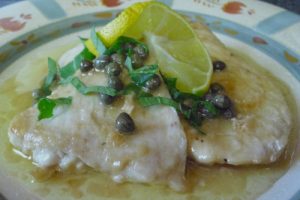 Chicken Piccata
2 skinless, boneless chicken breasts, (1 whole breast) cut in half (through the middle, as if butterflying)
Sea salt and freshly ground black pepper
All-purpose flour, for dredging
6 tablespoons unsalted butter
5 tablespoons extra-virgin olive oil
1/3 cup fresh lemon juice
1/2 cup chicken stock
1/4 cup brined capers, rinsed
1/3 cup Italian parsley, chopped
Place chicken into a freezer type bag and pound with a flat meat tenderizer to about 1/4" thick. Season chicken with salt and pepper. Dredge chicken in flour and shake off excess.
In a large skillet over medium high heat, melt 2 tablespoons of butter with 3 tablespoons olive oil. When butter has melted, add chicken without crowding, you'll probably need to do this in two batches, and cook until lightly browned. Turn and lightly brown the other side, transfer to plate.
Add more butter and oil, as needed, if you are sautéing in two batches.
Add the lemon juice, stock and capers to the hot pan and bring to boil, scraping up brown bits from the pan, the 'fond'. Taste and season, if necessary. Return all the chicken to the pan, including any liquid that has gathered on the plate, and simmer for 5 minutes. Remove chicken to platter. Add remaining 2 tablespoons butter to sauce and whisk vigorously. Pour sauce over chicken and garnish with parsley.
www.debskitchen.com
info@debskitchen.com