Add a baby green salad tossed lightly with olive oil & vinegar for a nice summer lunch or light dinner.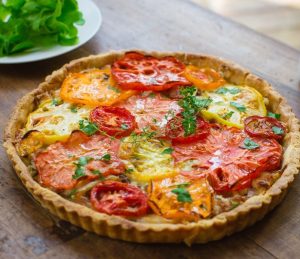 Fontina & Tomato Tart
1 sheet puff pastry, thawed in the refrigerator, keep cold until ready to use
4 tablespoons Dijon mustard
4 ounces grated fontina cheese
3 large tomatoes, cut into 1/4" thick slices
4 tablespoons grated Parmesan cheese
Preheat the oven to 425°F. Line a sheet pan with parchment paper or use with a non-stick tart pan.
Unfold one sheet of puff pastry on a lightly floured surface and roll it lightly to an 11-by-11-inch square or roll to the size of your tart pan adding ½" for the sides. I using the tart pan, fold up the pastry carefully and lay into the pan, unfold the pastry draping it over the sides of the pan. If using just the sheet pan, lay the pastry in the middle of the piece of parchment on the pan. Prick (called 'docking') the pastry with a fork leaving a 1/2" edge clear.
Spread a thin amount of mustard on the pricked part of the dough.
Sprinkle an even amount of the cheese on the mustard and top with slices of tomato. Fold a couple of inches of the dough over the filling, leaving a large part of the middle open, disregard if using the part pan. If the pastry is warm, chill for 15 minutes.
Bake for 20 to 25 minutes, until the pastry is golden brown. Garnish with a sprinkle of Parmesan cheese.