How to Build a Cheese or Charcuterie Board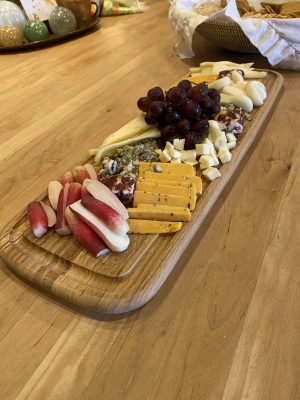 Start by choosing ingredients
Choose cheese first – Use a mixture of cow, goat, sheep milk. Choose a hard cheese (Cave Aged Gruyere, Aged Gouda), a soft cheese (chèvre, brie, burrata) and maybe a crumbly cheese (blue, Parmigiana Reggiano). You want a variety of flavors and choose an odd number of cheese as it is more pleasing to the eye.
Serve approximately 2 – 4 oz. of cheese per person. If it needs to be sliced, do so while it's cold. Let all cheese come to room temperature before serving.
Some of my favorite cheese mixes are:
Havarti, Aged Gouda, Aged Blue Cheese
Sharp Cheddar, Creamy Chèvre, Parmigiana Reggiano
Feta, Burrata, Gorgonzola or Fresh Blue Cheese (Pt. Reyes Blue)
Camembert or Brie, Drunken Goat (or Wine Infused hard cheese)
Bocconcini with herbed olive oil drizzle, Boursin, Manchego
Cave Aged Gruyere, Fontina, San Andreas
Next choose some charcuterie and pâtés, if serving.
Again serve 2-4 oz. per person and slice the meat/sausage while cold and allow to come to room temperature before serving.
Some selections might be:
Choose a variety of hard salami, soft meat such as prosciutto or Jambon Iberico, some smoked sausage, kielbasa, soppresseta, Serrano ham and a selection of pate and/or rillettes. Pair the flavor of the meat (soft to intensive) to the flavor of the cheese (soft to intensive).
Next choose a serving board, plate or platter that will accommodate your above choices. Remember you're going to be adding more ingredients. You could choose a rectangular serving platter, cutting board, slate tile, pizza wheel or the like.
Additions to the meat and cheese might be:
A selection of jams or preserves such as fig, peach or other fruit jam, or chutneys and honey.
Grainy or stoned mustard, olive spread, bean dips and antipasto spreads such as muffuletta.
Next something briny, caper berries, cornichon pickles, pickled vegetables such as a mixed Giardiniera or caponata.
Add some salty components, roasted nuts, Marcona almonds or toasted pumpkin seeds.
Crackers, bread sticks, toasted baguette slices, pita bread or pretzels.
Dried Fruit are great especially for a winter board, apricots, figs, cranberries or raisins.
Seasonal fruits and vegetables pair well with most meat and cheese, grapes, fresh apricots, apples, pears, cucumbers, carrots, pea pods any kind of berry, artichoke hearts, marinated mushrooms and roasted red peppers.
Herbs and Edible flowers are a nice addition and brighten up the board as well. Make sure that none have been sprayed with pesticides. Use a variety in season, pansies, chive, sage or nasturtium blossoms. Lavender, borage blossoms (taste faintly of cucumber), dill, cornflowers, Johnny jump ups, bee balm and zucchini blossoms.
Tips:
Try serving some of the jams, preserves, mustard, spreads or chutneys in small bowls. Anything that has a brine or is juicy should also go into a bowl such as olives and pickled vegetables. This will also give some height to the board, serve breadsticks in a jar or glass as well.
Serve each cheese and meat with its own cheese fork or utensil and picks for the olives or vegetables, spoons, cheese knives and mini tongs for the meat.
Try arranging the board where it will be served so as not to knock anything off while you are moving it. Make ahead and cover with a tea towel to keep out any pests.