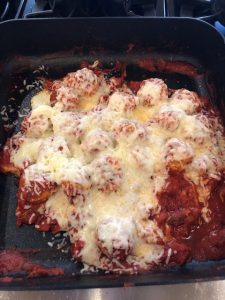 1 # ground chicken
½ cup bread crumbs
¼ cup grated parmesan cheese
2 tablespoons Italian flat leafed parsley, chopped
1 large egg
1 tablespoon fresh ground Italian spices
Sea salt and pepper
Olive oil
28 oz. can crushed tomatoes
1 ½ cup shredded mozzarella cheese
Combine ground chicken, bread crumbs, parmesan cheese, parsley, egg and season with ground Italian spices and salt and pepper. Heat a large sauté pan, add enough oil to coast the bottom of the pan and brown meatballs on all sides. Remove meatballs and whip out the pan with a towel. Add the crushed tomatoes to the pan and bring to a simmer. Add the meatballs and mozzarella cheese and cook until the cheese is melted, about 10 minutes. Cover with a lid if you like to melt the cheese faster, the meatballs are already cooked.
Serve immediately over pasta.
Meatballs and sauce can be frozen for up to 3 months.
Adapted from Delish