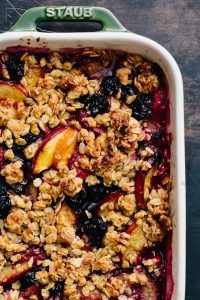 Any Fruit Crisp
For the filling:
½ cup granulated sugar
2 tablespoons cornstarch
6 cups sliced fresh or thawed frozen fruit
1 tablespoon freshly squeezed lemon juice
For the topping:
1 ½ cups old-fashioned rolled oats
1 cup all-purpose flour
½ cup packed light brown sugar
1/2 teaspoon salt
12 tablespoons unsalted butter, melted and cooled, plus more for buttering the baking dish
1 teaspoon vanilla extract
Arrange a rack in the middle of the oven and heat to 350°F. Coat a 9x9-inch or 11x7-inch glass baking dish with butter; set aside.
Whisk together the sugar and cornstarch in a medium mixing bowl until lump-free. Add the fruit and lemon juice and toss gently to coat. Transfer to the baking dish.
Topping: Combine the oats, flour, sugar, and salt in a large bowl and stir until combined. Drizzle the butter and vanilla over the oat mixture and stir to combine. Set aside or store in the freezer in a zip-top freezer bag for later use.
Scatter the crisp topping evenly over the fruit mixture, leaving large clumps intact. Bake until the fruit juices are bubbling around the edges of the baking dish and the topping is golden and firm to the touch, 30 to 35 minutes.
Let the crisp cool on a wire rack for at least 15 minutes before serving. If transporting to a picnic or party, let the crisp cool completely to give the fruit filling time to set. Crisps will keep, covered and refrigerated, for up to 1 week. Serve cold, room temperature, or re-warmed in a low oven for 20 minutes.
Notes:
Make ahead: Crisp topping can be made and frozen up to 3 months in advance.
Storage: Cover and refrigerate leftover crisp for up to 3 days. Enjoy cold for breakfast or gently rewarm in a low oven for 20 minutes before serving.