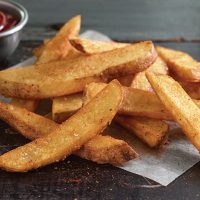 Oven Baked Steak Fries
Oven Baked Potato Wedges
Prep Time: 45 minutes
Cook Time: 35 minutes
Total Time: 1 hour 20 minutes
These oven baked potato wedges are easy and delicious every time. The cheese melts onto the potato wedges and they are so good!
Author: Natasha of NatashasKitchen.com
Skill Level: Easy
Cost to Make: $3-$5
Keyword: baked potato wedges
Cuisine: American
Course: Lunch, Side Dish
Calories: 307 kcal
Servings: 4 persons
Ingredients
Oven Baked Steak Fries
2 russet potatoes rinsed and dried
¼ cup sunflower, safflower, canola or vegetable oil
Sea salt and fresh ground pepper
Preheat oven to 450˚F. Place potatoes in a bowl of cold water and let them stand for ½ hour. Drain and dry well.
Add potatoes back to the bowl (dry it well also) toss with oil, sea salt and pepper.
Line baking sheet with parchment paper and arrange the potatoes on the pan, bake at 450˚F for 30-35 min until the potatoes are cooked through, browned and crispy.